Sammlung des Herrn Paul Joseph in Frankfurt a. M.: Auktion ...
Frankfurt am Main, 1912
Digital version of a copy from Heidelberg University Library.
Citation link: https://digi.ub.uni-heidelberg.de/diglit/hamburger1912_02_26ga
URN: urn:nbn:de:bsz:16-diglit-189297
DOI: https://doi.org/10.11588/diglit.18929
Metadata: METS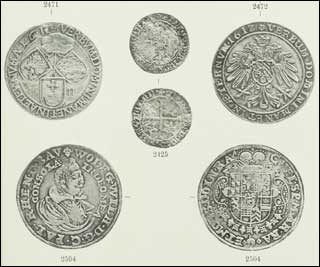 There are annotations to individual pages of this facsimile. Individual pages with annotations are marked in "Overview" with the symbol .
All related items
Band 1: Münzen und Medaillen von Süddeutschland und Luxemburg, nebst einem Anhang Sammlung eines französischen Amateurs Medaillen und Plaketten, hauptsächlich aus dem 19. Jahrhundert: Auktion am Montag, 26. Februar 1912,

Frankfurt a.M., 1912
Band 2: Münzen und Medaillen von Rheinland, Westfalen, Norddeutschland und ausserdeutschen Staaten: Auktion am Montag, 28. Oktober 1912 und folgende Tage,

Frankfurt am Main, 1912