Heidelberger Bürger-Zeitung: Mittelstands-Zeitung ; unabhängiges Kampfblatt für die Interessen des deutschen Mittelstandes
Heidelberg, 1929,Sept. - 1930,Dez.
Within the framework of its digital library, Heidelberg University Library grants access to historical documents for research and teaching purposes. Note that this collection also contains journals and newspapers from the National Socialist era. Heidelberg University Library emphatically dissociates itself from the opinions expressed in any racist, violence-glorifying and National Socialist content..
Citation link: https://digi.ub.uni-heidelberg.de/diglit/heidelberger_buergerzeitung
URN: urn:nbn:de:bsz:16-diglit-424397
DOI: https://doi.org/10.11588/diglit.42439
Metadata: METS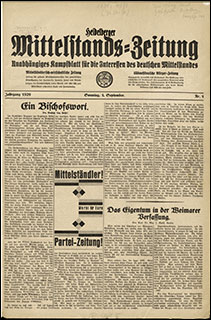 There are annotations to this facsimile. Individual pages with annotations are marked in "Overview" with the symbol .
All related items