Universitätsbibliothek Heidelberg, Heid. Urk. 149
Heidingsfeld, 1367 Januar 22
Karl IV. fordert die Hagenauer auf, sofort dem Bischof Lambert von Speyer anzugeben, wie viel Mannschaft sie zu seinem Römerzuge auf 6 Monate stellen wollen.
Language: Latin

Citation link: https://digi.ub.uni-heidelberg.de/diglit/heidurk149
URN: urn:nbn:de:bsz:16-diglit-534283
Metadata: METS
IIIF Manifest: v2.1, v3.0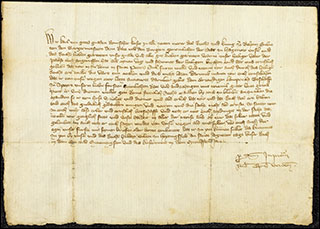 There are annotations to individual pages of this facsimile. Individual pages with annotations are marked in "Overview" with the symbol .
Content