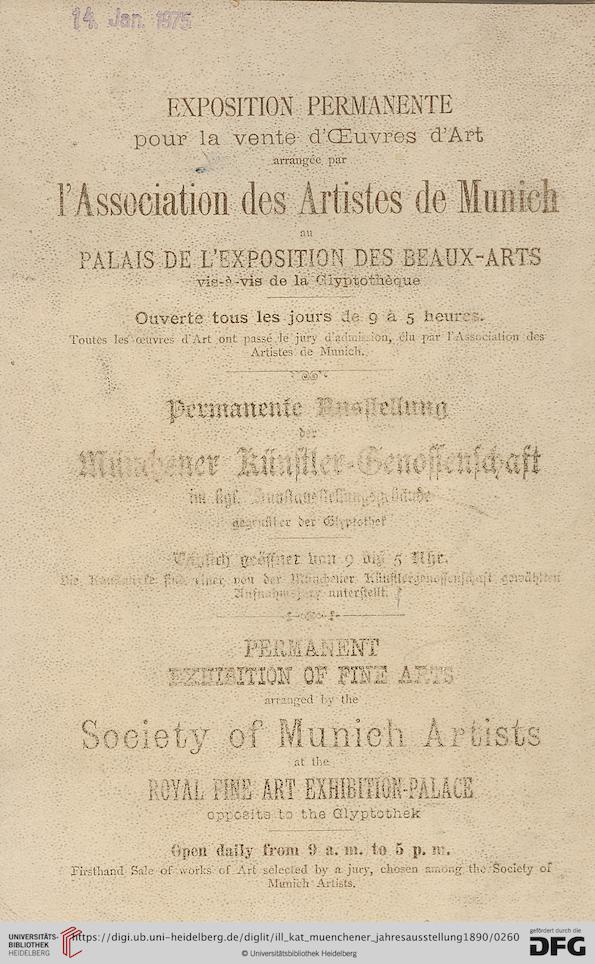 pour la vente- d'CEuvres d'Art
.arrängce par .
I' Association des Artistes de Munich
PALAIS DE L'EXPOSITION DES BEAUX-ARTS
vier?-vis de la Glyritötäeque
Ouverte tous les joufs d« g ä 5 heu;-,'?.
Toutes les'. ceuvres d'Art ont passe, le Jury ü's'...':... • öu, ein pär lOVssacastipn Jes
Artistes ce MnnicH;




t-<- ,-E: < 15.•■•.' Z. •'- X A.XA _r,x.' Ar i/: K' ...
arrAiiged l y Hie
n i O VO' ° t '
Soeiety pr Muiiich Arusts
at tbe . '
ROYAL FBE ART EXHIB1W-PALACB
Gppc-öitc- to trie Glyptothek
('fpen 'dally froni 9 ä. iih to 5 p. iv.
yirsthand Saleyof- worksi gC Art selecied by a jury, chbsen aduöng; thc:Society oi
Munich Artists.