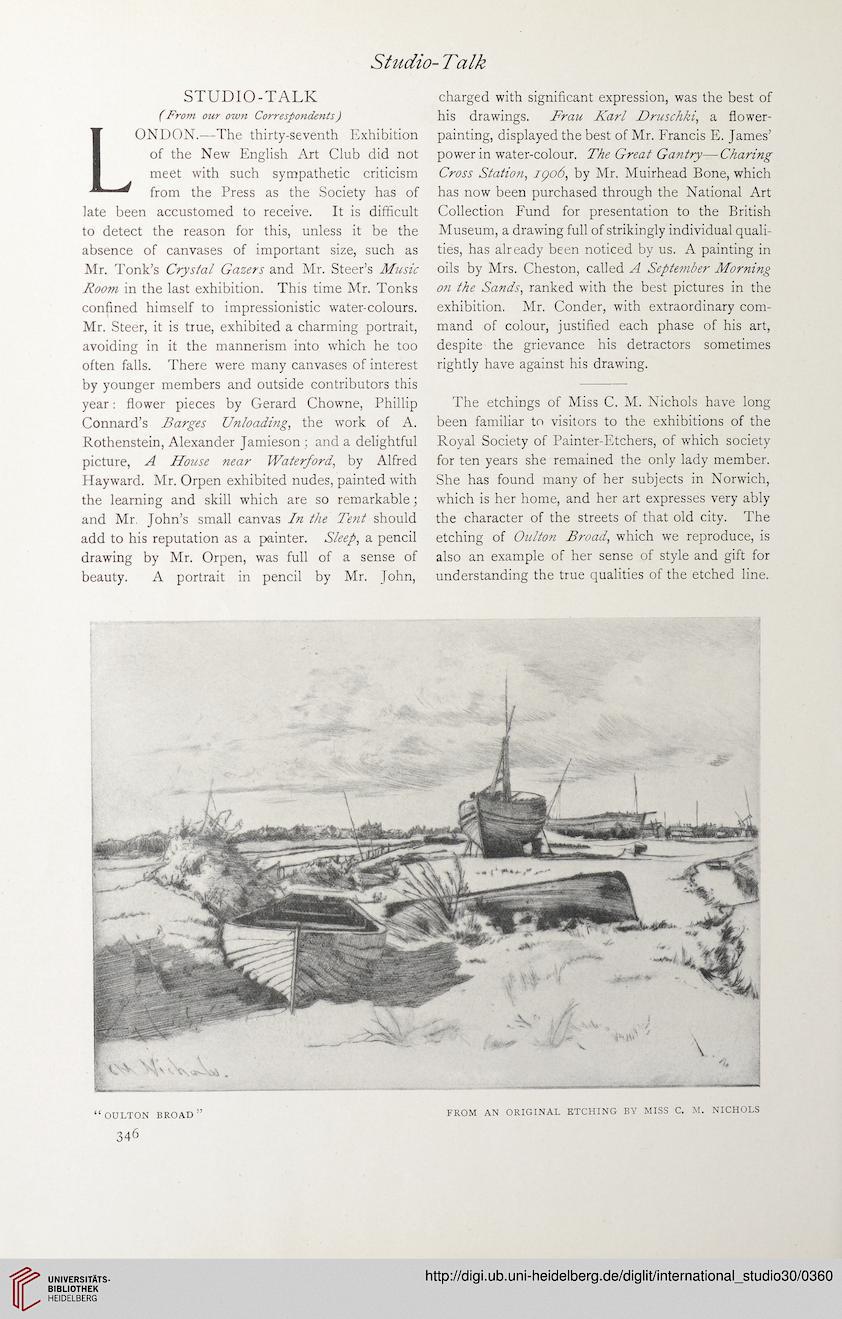 STUDIO-TALK
(From our own Correspondents)
ONDON.—The thirty-seventh Exhibition
of the New English Art Club did not
meet with such sympathetic criticism
from the Press as the Society has of
late been accustomed to receive. It is difficult
to detect the reason for this, unless it be the
absence of canvases of important size, such as
Mr. Tonk's Crystal Gazers and Mr. Steer's Music
-Room in the last exhibition. This time Mr. Tonks
confined himself to impressionistic water-colours.
Mr. Steer, it is true, exhibited a charming portrait,
avoiding in it the mannerism into which he too
often falls. There were many canvases of interest
by younger members and outside contributors this
year: flower pieces by Gerard Chowne, Phillip
Connard's Barges Unloading, the work of A.
Rothenstein, Alexander Jamieson ; and a delightful
picture, A House near Waterford, by Alfred
Hayward. Mr. Orpen exhibited nudes, painted with
the learning and skill which are so remarkable;
and Mr. John's small canvas In the Tent should
add to his reputation as a painter. Sleep, a pencil
drawing by Mr. Orpen, was full of a sense of
beauty. A portrait in pencil by Mr. John,

charged with significant expression, was the best of
his drawings. Frau Karl Druschki, a flower-
painting, displayed the best of Mr. Francis E. James'
power in water-colour. The Great Gantry—Charing
Cross Station, ipo6, by Mr. Muirhead Bone, which
has now been purchased through the National Art
Collection Fund for presentation to the British
Museum, a drawing full of strikingly individual quali-
ties, has already been noticed by us. A painting in
oils by Mrs. Cheston, called A September Morning
on the Sands, ranked with the best pictures in the
exhibition. Mr. Conder, with extraordinary com-
mand of colour, justified each phase of his art,
despite the grievance his detractors sometimes
rightly have against his drawing.

The etchings of Miss C. M. Nichols have long
been familiar to visitors to the exhibitions of the
Royal Society of Painter-Etchers, of which society
for ten years she remained the only lady member.
She has found many of her subjects in Norwich,
which is her home, and her art expresses very ably
the character of the streets of that old city. The
etching of Oulton Broad, which we reproduce, is
also an example of her sense of style and gift for
understanding the true qualities of the etched line.