Anzeige einer ansehnlichen Kupferstich-Sammlung alter, neuer und seltener Blätter berühmter Meister (Band 11): ... nebst einigen Handzeichnungen, Gemählden, Kupferstichwerken und vielen Kufperstichen unter Glas und Rahm: Den 1ten Febr. 1792 wird der Verkauf davon gehalten ... von dem verpflichteten Universitäts-Proclamator Herrn Weigel, im rothen Collegio zu Leipzig ...
Leipzig, 1792 [VD18 90553179]
Citation link: https://digi.ub.uni-heidelberg.de/diglit/kupferstichsammlung1791
URN: urn:nbn:de:bsz:16-diglit-225310
DOI: https://doi.org/10.11588/diglit.22531
Metadata: METS
IIIF Manifest: https://digi.ub.uni-heidelberg.de/diglit/iiif/kupferstichsammlung1791/manifest.json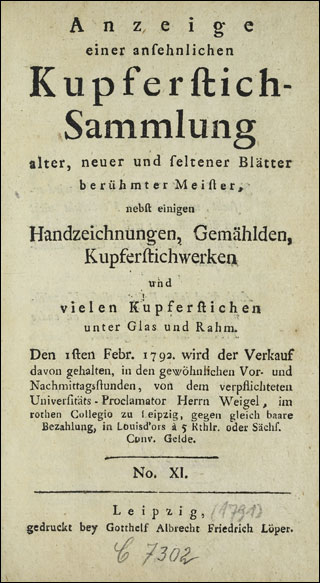 There are annotations to individual pages of this facsimile. Individual pages with annotations are marked in "Overview" with the symbol .
Content