Universitätsbibliothek Heidelberg, Urk. Lehmann 191
1516 [nach August 25]
Liste der Helfer Kilians von Berwangen beim Überfall, bei der Plünderung und Brandschatzung des hanau-lichtenbergischen Ortes Dunzenheim. Neben Kilian werden genannt: Christof vom Stein, Friedrich vom Stein, Hans Stetenberger von Landau, Melchior Affenstein, Peter von lanstal, Klaus Steinböcklin (in Urk. Lehmann 192: Steinbock), Wolf Horn, der Schultheiß von Siebeldingen, N. Brack und der Spitalmeister Nikolaus von Dirmstein sowie die Fußknechte Birß hensel [?] und der Wirtssohn Albrecht aus Ebernburg.
Language: German

Citation link: https://digi.ub.uni-heidelberg.de/diglit/lehm191
URN: urn:nbn:de:bsz:16-diglit-92285
DOI: https://doi.org/10.11588/diglit.9228
Metadata: METS
IIIF Manifest: https://digi.ub.uni-heidelberg.de/diglit/iiif/lehm191/manifest.json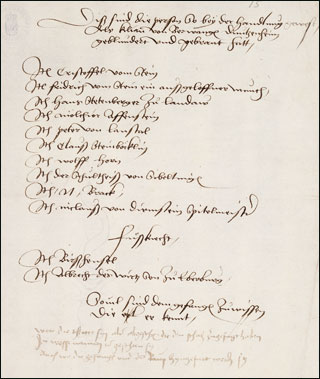 There are annotations to this facsimile. Individual pages with annotations are marked in "Overview" with the symbol .
Content