Universitätsbibliothek Heidelberg, Urk. Lehmann 21
Antwerpen, 1494 November 24
König Maximilian I. schreibt für den 2. Februar 1495 einen Reichstag nach Worms aus, um Frieden, Recht und Gericht herzustellen sowie den Widerstand gegen die Türken vorzubereiten; der Reichstag soll nicht mehr als 14 Tage dauern. Er lädt die Reichsstände dazu ein [hier: Graf Heinrich II. zu Bitsch]. Sie sollen mit einem Aufgebot nach Worms kommen, um dort den Türkenzug, die italienische Frage und die Bedürfnisse des Reichs zu beraten und danach zur Kaiserkrönung mit Maximilian nach Rom und anschließend im Sommer gegen die Türken zu ziehen, wie sie es nach alter Gewohnheit und schuldiger Pflicht zu tun haben.
Language: German

Citation link: https://digi.ub.uni-heidelberg.de/diglit/lehm21
URN: urn:nbn:de:bsz:16-diglit-83068
DOI: https://doi.org/10.11588/diglit.8306
Metadata: METS
IIIF Manifest: https://digi.ub.uni-heidelberg.de/diglit/iiif/lehm21/manifest.json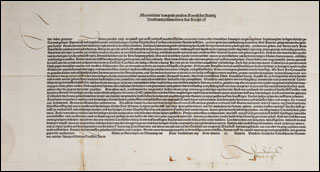 There are annotations to this facsimile. Individual pages with annotations are marked in "Overview" with the symbol .
Content