Universitätsbibliothek Heidelberg, Urk. Lehmann 56
Nördlingen, 1458 November 3
Pfalzgraf Friedrich I. fordert von den Grafen Emich VIII., Bernhard, Philipp und Dieter von Leiningen die sofortige Freilassung seiner Diener Simon III. von Mühlhofen und Philipp Schnittlauch von Kestenburg sowie deren Knechte, die von leiningischen Soldaten am 27. Oktober gefangenen genommen worden waren, ohne Lösegeldzahlung. Friedrich erbittet die Antwort durch denselben pfalzgräflichen Boten, der auch den vorliegenden Brief überbrachte.
Language: German

Citation link: https://digi.ub.uni-heidelberg.de/diglit/lehm56
URN: urn:nbn:de:bsz:16-diglit-81268
DOI: https://doi.org/10.11588/diglit.8126
Metadata: METS
IIIF Manifest: https://digi.ub.uni-heidelberg.de/diglit/iiif/lehm56/manifest.json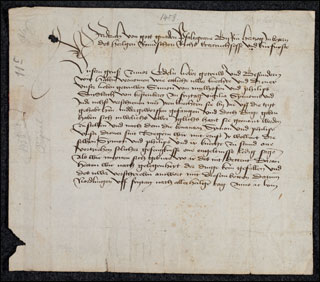 There are annotations to this facsimile. Individual pages with annotations are marked in "Overview" with the symbol .
Content