[Heidelberg?], 1568 Januar 28
Kurfürst Friedrich III. beurkundet, von der Universität Heidelberg die Summe von 7490 Gulden als Erlös aus dem Verkauf einiger genannter Häuser und Güter, die zum Kloster Lambrecht gehörten, erhalten zu haben. Der Kurfürst bestimmt die Anlegung der Einnahmen zum Nutzen der Universität: Von dieser Summe werden 1372 Gulden mit einer Gült von 68 Gulden auf den Zoll von Oggersheim verschrieben. Für den übrigen Teil von 6128 Gulden überträgt der Kurfürst sein Hofgut in Lambsheim an die Universität zu deren Eigentum und Nutzen. Ankündigung des Siegels des Ausstellers.
Language: German

Citation link: https://digi.ub.uni-heidelberg.de/diglit/lehm79
URN: urn:nbn:de:bsz:16-diglit-94657
Metadata: METS
IIIF Manifest: https://digi.ub.uni-heidelberg.de/diglit/iiif/lehm79/manifest.json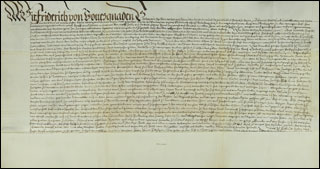 There are annotations to this facsimile. Individual pages with annotations are marked in "Overview" with the symbol .
Content