o.O., 1351 März 17
Graf Walram II. von Zweibrücken und seine Ehefrau Johannette (Jonachan) stiften im Stift Zell ein Seelgerät über 2 Pfund Heller, die jährlich am Martinstag (11. November) fällig werden und die auf das Backhaus zu Göllheim (Gyllinheim) und alle anderen dortigen Backhäuser, die sie oder ihre Nachfahren etwa noch errichten mögen, verschrieben sind. Dafür verpflichtet sich das Stift, jährlich am Donnerstag nach dem Martinstag für das Seelenheil der Stifter und ihrer verstorbenen Verwandten alle sieben Stundengebete zu singen und eine Messe zu lesen. Ankündigung des gräflichen Siegels und des Zeller Kapitelssiegel.
Language: German

Citation link: https://digi.ub.uni-heidelberg.de/diglit/lehm94
URN: urn:nbn:de:bsz:16-diglit-77835
Metadata: METS
IIIF Manifest: https://digi.ub.uni-heidelberg.de/diglit/iiif/lehm94/manifest.json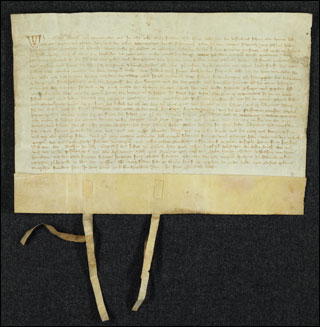 There are annotations to this facsimile. Individual pages with annotations are marked in "Overview" with the symbol .
Content