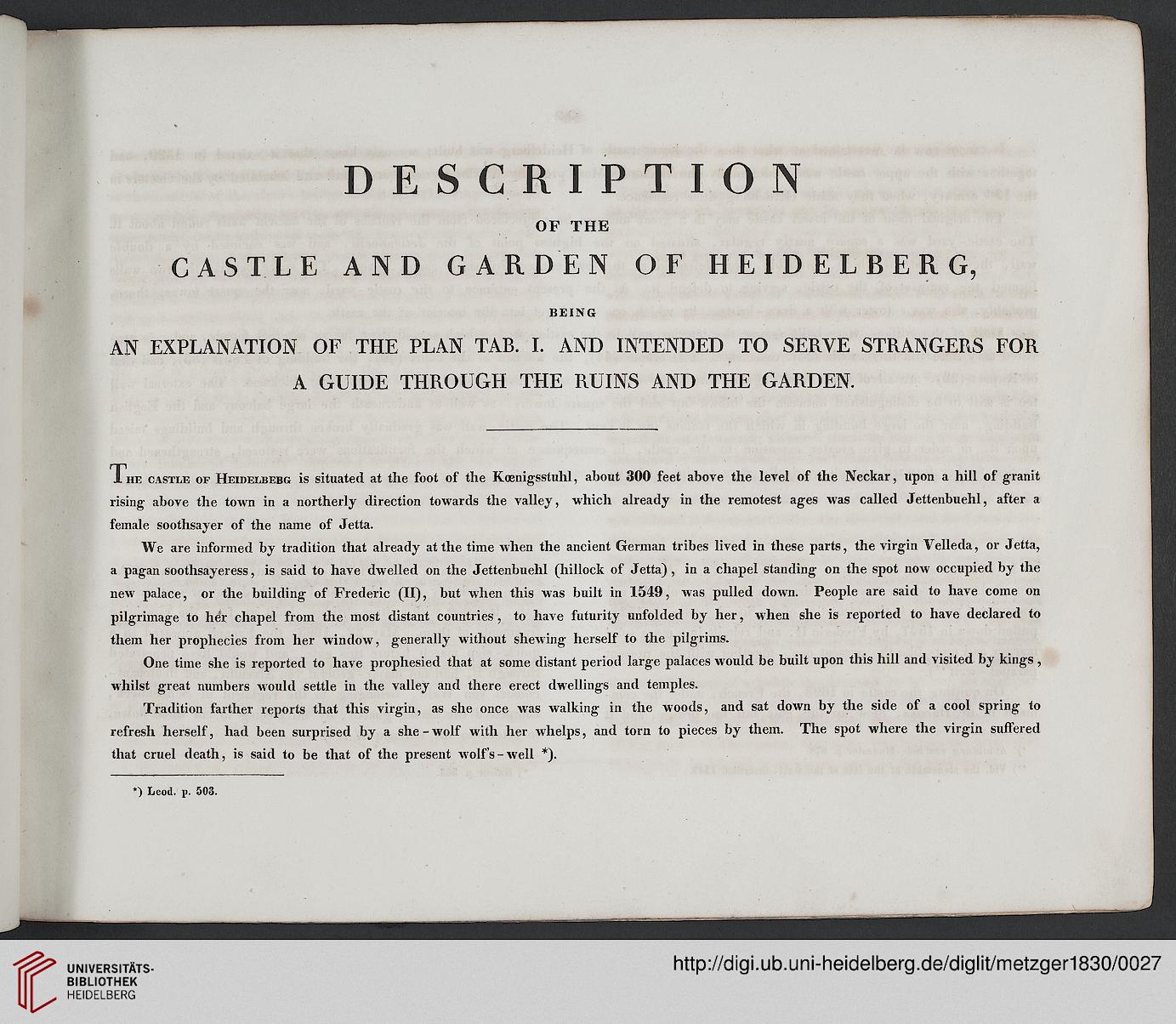 OF THE

CASTLE AND GARDEN OF HEIDELBERG,

BEING

AN EXPLANATION OF THE PLAN TAB. I. AND INTENDED TO SERVE STRANGERS FOR

A GUIDE THROUGH THE RUINS AND THE GARDEN.

The castle of Heidelbebg is situated at the foot of the Koenigsstuhl, about 300 feet above the level of the Neckar, upon a hill of granit
rising above the town in a northerly direction towards the valley, which already in the remotest ages was called Jettenbuehl, after a
female soothsayer of the name of Jetta.

We are informed by tradition that already at the time when the ancient German tribes lived in these parts, the virgin Velleda, or Jetta,
a pagan soothsayeress, is said to have dwelled on the Jettenbuehl (hillock of Jetta), in a chapel standing on the spot now occupied by the
new palace, or the building of Frederic (II), but when this was built in 1549, was pulled down. People are said to have come on
pilgrimage to her chapel from the most distant countries , to have futurity unfolded by her, when she is reported to have declared to
them her prophecies from her window, generally without sheAving herself to the pilgrims.

One time she is reported to have prophesied that at some distant period large palaces would be built upon this hill and visited by kings ,
whilst great numbers would settle in the valley and there erect dwellings and temples.

Tradition farther reports that this virgin, as she once was walking in the woods, and sat down by the side of a cool spring to
refresh herself, had been surprised by a she-wolf with her whelps, and torn to pieces by them. The spot where the virgin suffered
that cruel death, is said to be that of the present wolf's-well *).

*) Leod. p. 503.