Neue Auszüge aus den besten ausländischen Wochen- und Monatsschriften
9/10.1769 [VD18 90291492]
Die im Heidelberger Exemplar fehlenden Seiten 529-592 wurden aus dem Exemplar der Wissenschaftlichen Stadtbibliothek Mainz (VI s 175a) ergänzt.
Seitenzählung in der Vorlage teilweise inkorrekt
Citation link: https://digi.ub.uni-heidelberg.de/diglit/neue_auszuege_wochen_monatsschriften1769
URN: urn:nbn:de:bsz:16-diglit-477360
DOI: https://doi.org/10.11588/diglit.47736
Metadata: METS
IIIF Manifest: v2.1, v3.0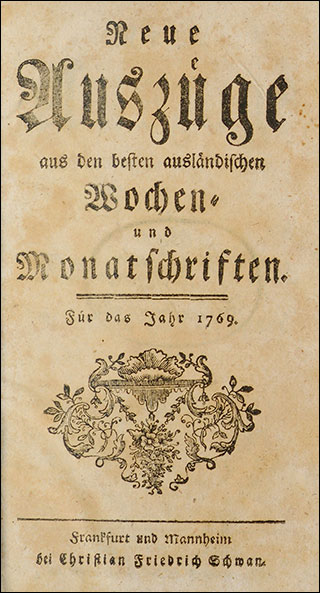 There are annotations to individual pages of this facsimile. Individual pages with annotations are marked in "Overview" with the symbol .
Content