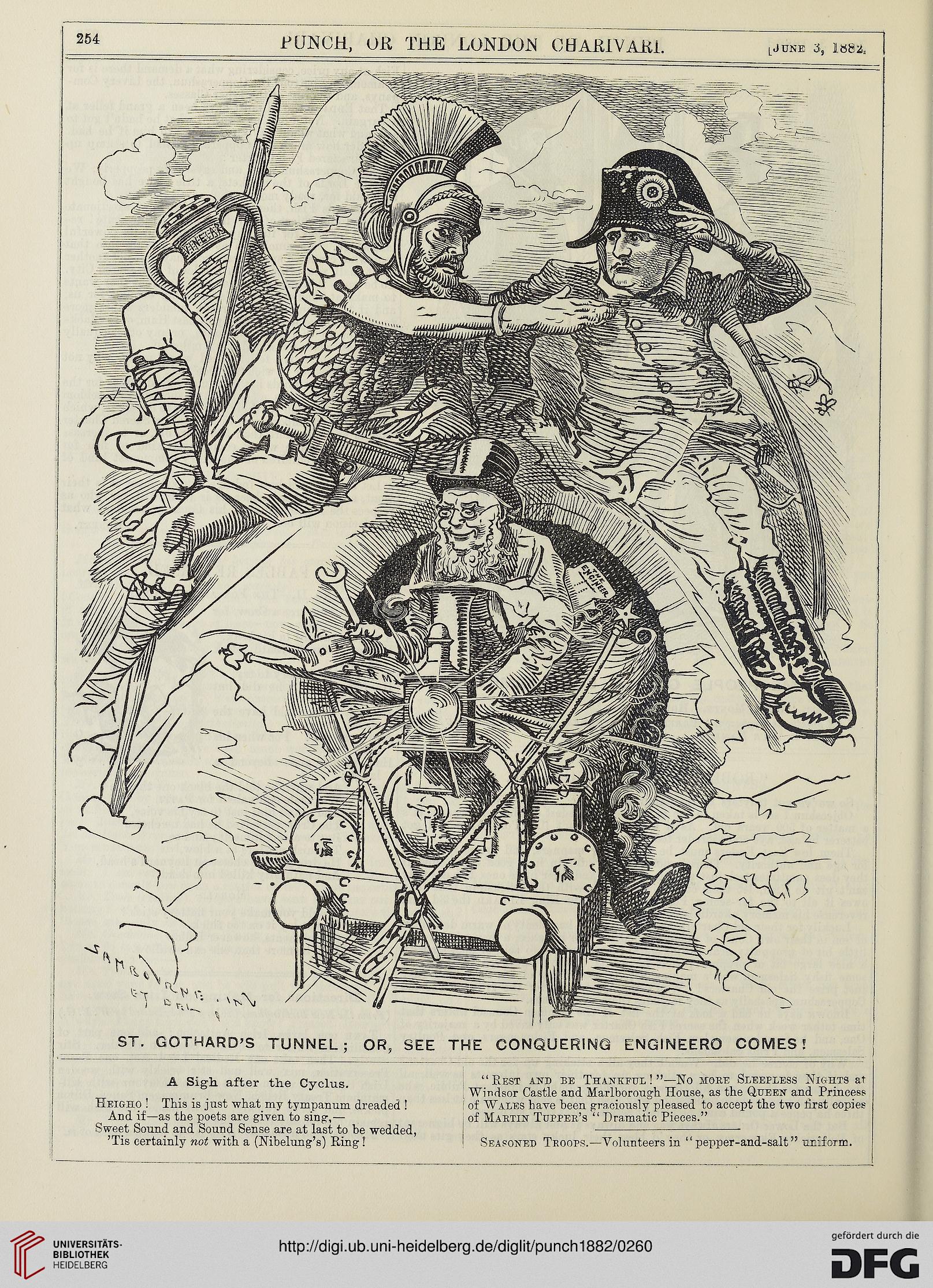 rUNCH, OR THE LONDOH OHAfUVARL

ljdne 3, lasa,

ST. GOTHARD'S TUNNEL ; OR, SEE THE CONQUERING ENGINEERO COMES !

A Sigh after the Cyclus.

Heigho ! This is just what my tympanum dreaded !

And if—as the poets are given to sing,—

Sweet Sound and Sound Sense are at last to be wedded,
'Tis certainly not with a (Mbelung's) Ring!

" ReST ANI) BE ThANEFDL ! "—No MORE Sleepless Nights at
Windsor Castle and Marlborough House, as the Qdeen and Prineess
of Wales have been graciously pleased to accept the two tirst copies
of Martin Tdpper's " Hramatic Pieces."

Seaponei) Troops.—Volunteers in " pepper-and-sait " nniform.

Werk/Gegenstand/Objekt
Titel
Titel/Objekt
Weitere Titel/Paralleltitel
Sachbegriff/Objekttyp
Inschrift/Wasserzeichen
Aufbewahrung/Standort
Aufbewahrungsort/Standort (GND)
Inv. Nr./Signatur
Objektbeschreibung
Maß-/Formatangaben
Auflage/Druckzustand
Werktitel/Werkverzeichnis
Herstellung/Entstehung
Künstler/Urheber/Hersteller (GND)
Entstehungsdatum
Entstehungsdatum (normiert)
Entstehungsort (GND)
Auftrag
Publikation
Fund/Ausgrabung
Provenienz
Restaurierung
Sammlung Eingang
Ausstellung
Bearbeitung/Umgestaltung
Thema/Bildinhalt
Thema/Bildinhalt (GND)
Literaturangabe
Rechte am Objekt
Aufnahmen/Reproduktionen