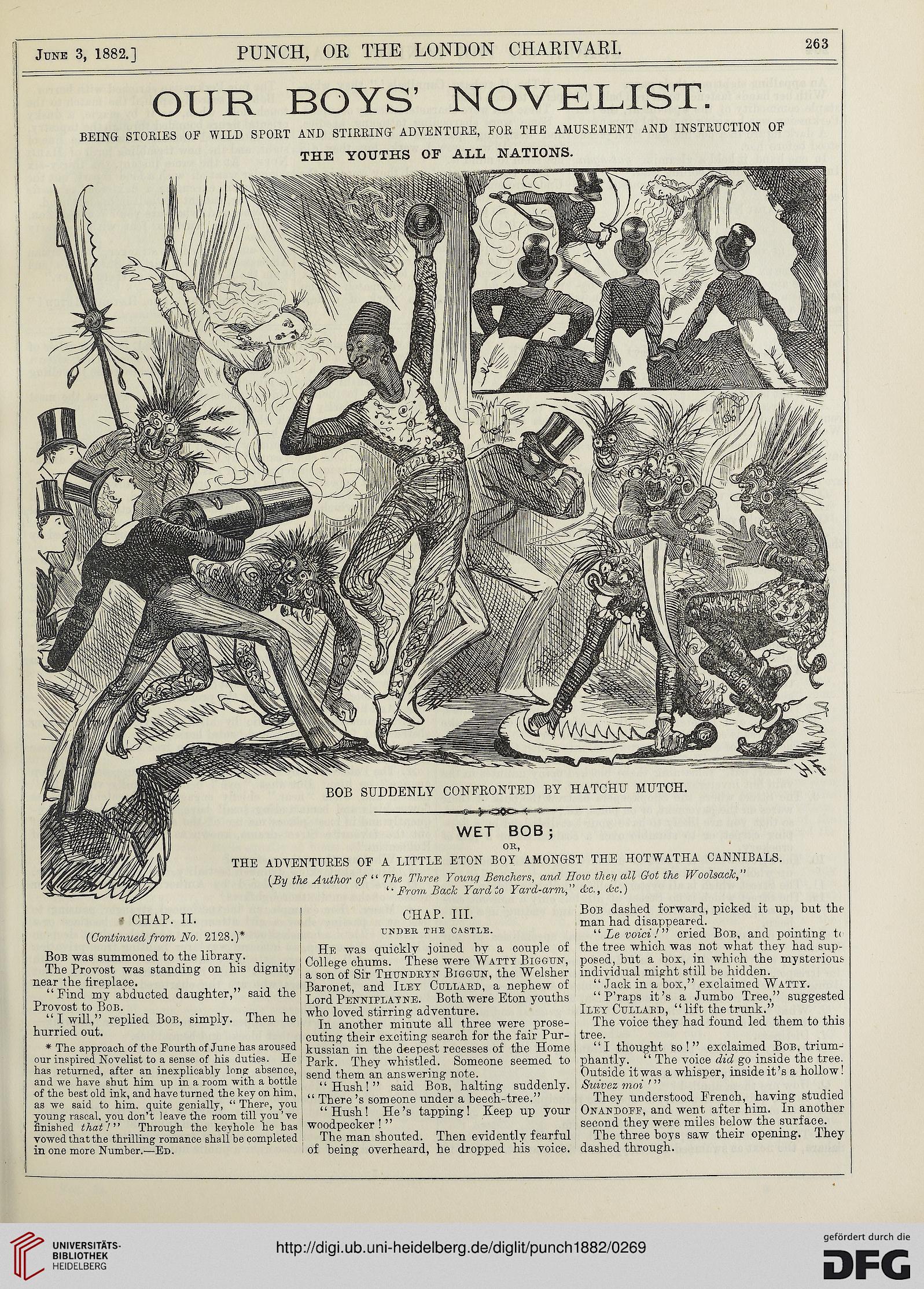 263

OUR BOYS' NOVELIST.

BEENG STORIES OF WILD SPORT AND STIRRING ADYENTURE, FOR THE AMUSEMENT AND INSTRUCTION OF

THE YOUTHS OF ALL NATIONS.

WET BOB ;

OR,

THE ADVENTURES OF A LITTLE ETON BOY AMONGST THE HOTWATHA CANNIBALS.

(By the Author of " The Three Younq Benchers, and Hoiv they all Got the Woolsaclc,"

" From Back Yardio Yard-arm," &c., tfcc.)

BOB SUDDENLY CONFRONTED BY HATCHU MUTCH.

# CHAP. II.

(Continued from No. 2128.)*

Bob was summoned to the library.

The Provost was standing on his dignity
near the tireplace.

"Find my abducted daughter," said the
Provost to Bob.

" I will," replied Bob, simply. Then he
hurried out.

* The approach of the Fourth of June has aroused
our inspired Novelist to a sense of his duties. He
has returned, after an inexplicably long: absence,
and we have shut him up in a room with a bottle
of the best old ink, and have turned the key on him,
as we said to him. quite genially, " Therp, you
young rascal, you don't leave the room till you've
nnished that!'' Through the keyhole he bas
vowed thatthe thrilling romance 6hali be completed
in one more Number.—Ed.

C'HAP. III.

UNDEB, THE CASTLE.

He was quicklv joined hy a couple of
College chums. These were Wattt Biggun,
a son of Sir Thtjndbyn Biggun, the Welsher
Baronet, and Iley Cullabd, a nephew of
Lord Penniplayne. Both were Eton youths
who loved stirring adventure.

In another minute all three were prose-
cuting their exciting search for the fair Pur-
kussian in the deepest recesses of the Home
Park. They whistled. Someone seemed to
send them an answering note.

"Hush!" said Bob, halting suddenly.
" There 's someone under a heech-tree."

"Hush! He's tapping! Keep up your
woodpecker ! ' '

The man shouted. Then evidently fearful
of being overheard, he dropped his voice.

Bob dashed forward, picked it up, hut the
man had disappeared.

" Le voici /" cried Bob, and pointing t<
the tree which was not what they had sup-
posed, but a box, in which the mysterious
individual might still he hidden.

" Jack in a box," exclaimed Watty.

" P'raps it's a Jumho Tree," suggested
Iley Cullabd, " lift the trunk."

The voice they had found led them to this
| tree.

"I thought so ! " exclaimed Bob, trium-
phantly. " The voice did go inside the tree.
Outside itwas a whisper, insideit's a hollow!

Suivez moi ' "

They understood French, having studied
Onandoef, and went after him. In another
second they were mi!es helow the surface.

The three hoys saw their opening. They
dashed through.