Des hochlöbl. schwäbischen Kreises vollständiges Staats- und Addreß-Buch: auf d. Jahr ..., worinnen d. in diesem Kreiß dermalen florirende höchst- u. hohe Regenten, d. geist- u. weltl. Fürsten, Prälaten ... enthalten
1786
Die fehlenden Seiten 225-240 und 305-320 wurden aus dem Exemplar der Württembergischen Landesbibliothek Stuttgart (ZZ 123) ergänzt.
Seitenzählung in der Vorlage teilweise inkorrekt.
Citation link: https://digi.ub.uni-heidelberg.de/diglit/staats_und_address_buch1786
URN: urn:nbn:de:bsz:16-diglit-481019
DOI: https://doi.org/10.11588/diglit.48101
Metadata: METS
IIIF Manifest: v2.1, v3.0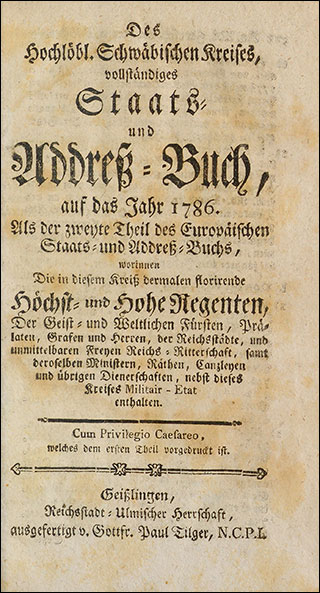 There are annotations to individual pages of this facsimile. Individual pages with annotations are marked in "Overview" with the symbol .
Content