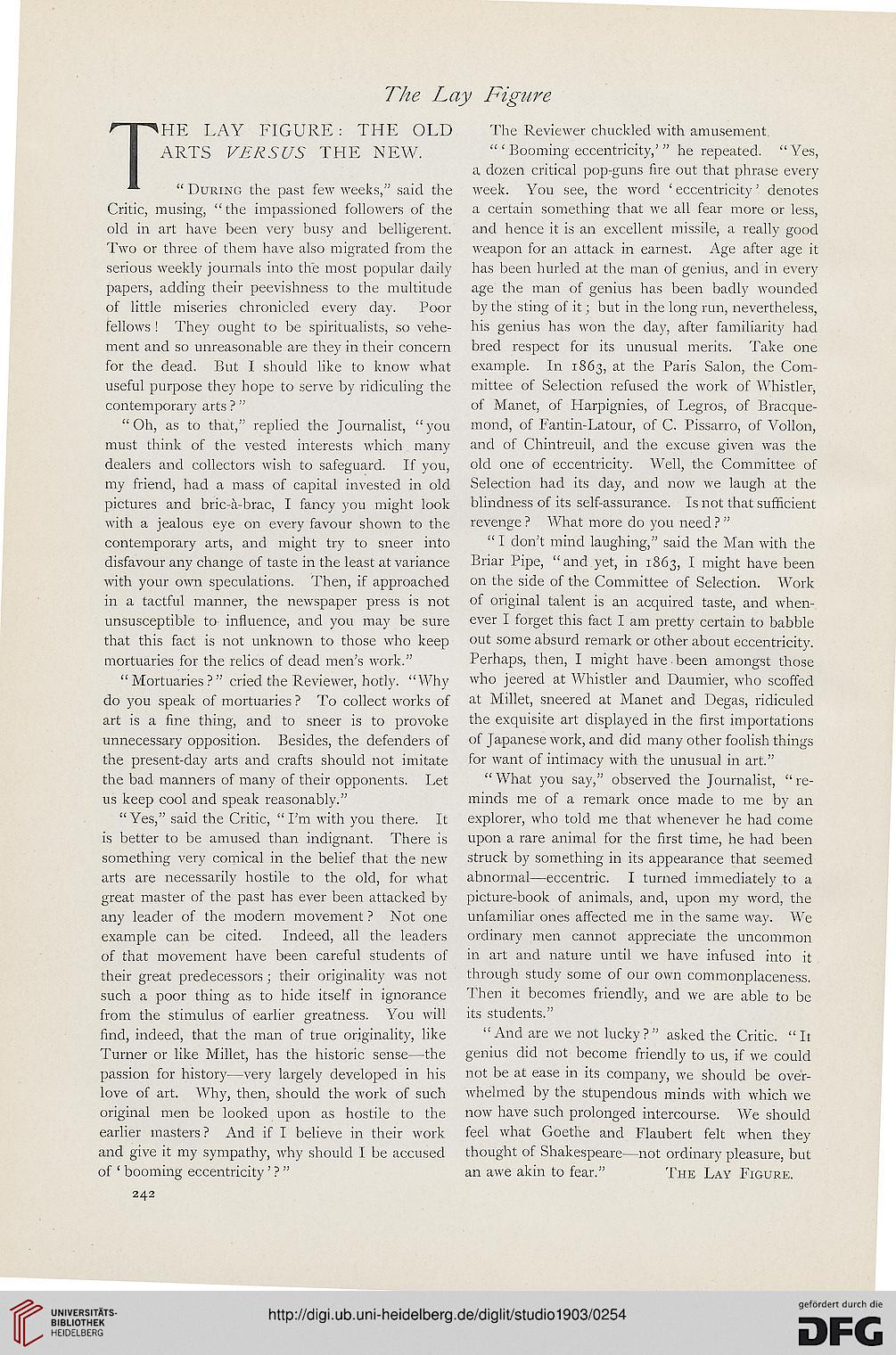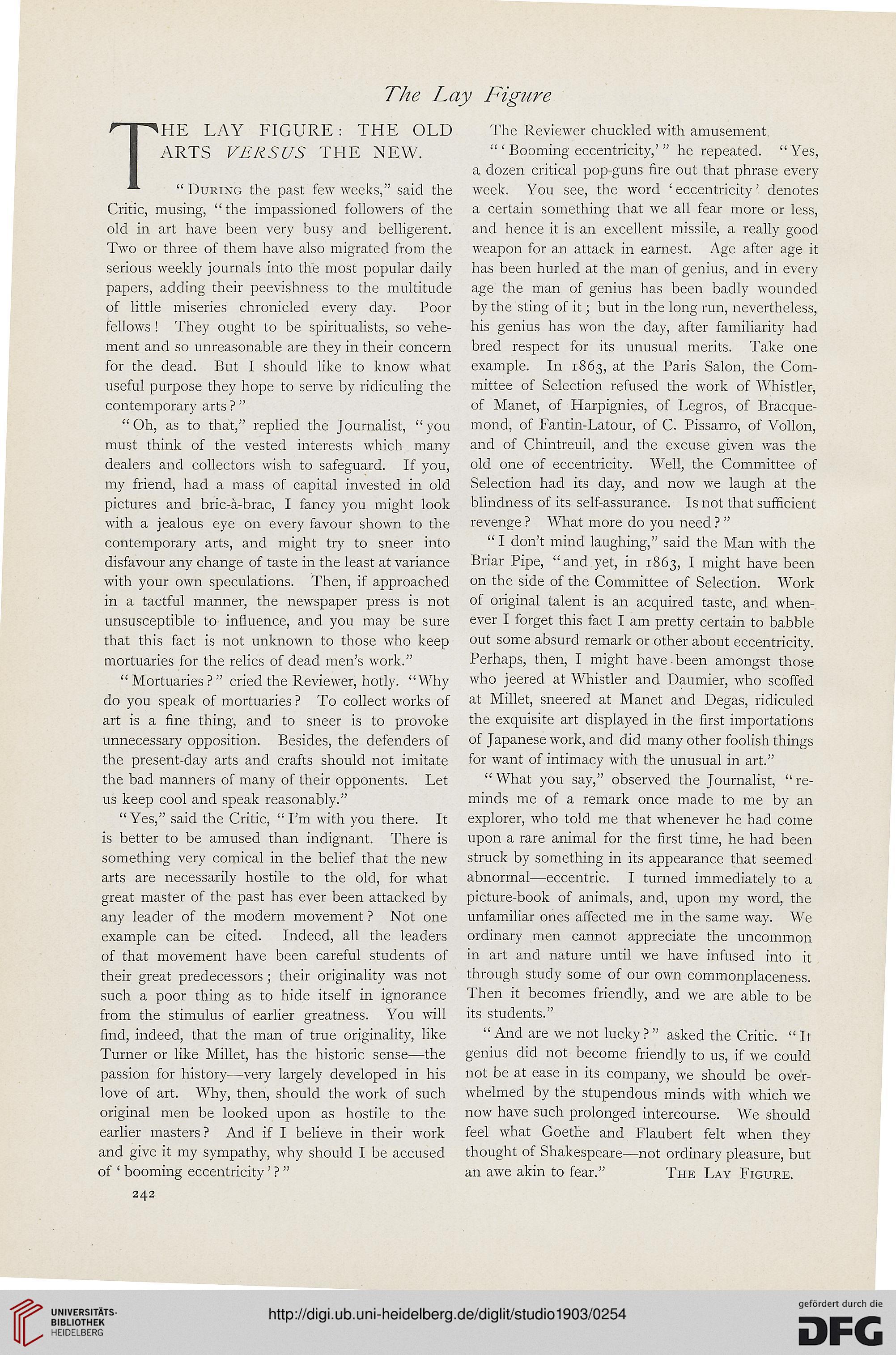 THE LAY FIGURE: THE OLD
ARTS VERSUS THE NEW.
" During the past few weeks," said the
Critic, musing, "the impassioned followers of the
old in art have been very busy and belligerent.
Two or three of them have also migrated from the
serious weekly journals into the most popular daily
papers, adding their peevishness to the multitude
of little miseries chronicled every day. Poor
fellows ! They ought to be spiritualists, so vehe-
ment and so unreasonable are they in their concern
for the dead. But I should like to know what
useful purpose they hope to serve by ridiculing the
contemporary arts ? "

" Oh, as to that," replied the Journalist, " you
must think of the vested interests which many
dealers and collectors wish to safeguard. If you,
my friend, had a mass of capital invested in old
pictures and bric-a-brac, I fancy you might look
with a jealous eye on every favour shown to the
contemporary arts, and might try to sneer into
disfavour any change of taste in the least at variance
with your own speculations. Then, if approached
in a tactful manner, the newspaper press is not
unsusceptible to influence, and you may be sure
that this fact is not unknown to those who keep
mortuaries for the relics of dead men's work."

" Mortuaries ? " cried the Reviewer, hotly. "Why
do you speak of mortuaries ? To collect works of
art is a fine thing, and to sneer is to provoke
unnecessary opposition. Besides, the defenders of
the present-day arts and crafts should not imitate
the bad manners of many of their opponents. Let
us keep cool and speak reasonably."

"Yes," said the Critic, "I'm with you there. It
is better to be amused than indignant. There is
something very comical in the belief that the new
arts are necessarily hostile to the old, for what
great master of the past has ever been attacked by
any leader of the modern movement ? Not one
example can be cited. Indeed, all the leaders
of that movement have been careful students of
their great predecessors; their originality was not
such a poor thing as to hide itself in ignorance
from the stimulus of earlier greatness. You will
find, indeed, that the man of true originality, like
Turner or like Millet, has the historic sense—the
passion for history—very largely developed in his
love of art. Why, then, should the work of such
original men be looked upon as hostile to the
earlier masters? And if I believe in their work
and give it my sympathy, why should I be accused
of ' booming eccentricity ' ? "
242

The Reviewer chuckled with amusement.

"'Booming eccentricity,'" he repeated. "Yes,
a dozen critical pop-guns fire out that phrase every
week. You see, the word ' eccentricity' denotes
a certain something that we all fear more or less,
and hence it is an excellent missile, a really good
weapon for an attack in earnest. Age after age it
has been hurled at the man of genius, and in every
age the man of genius has been badly wounded
by the sting of it; but in the long run, nevertheless,
his genius has won the day, after familiarity had
bred respect for its unusual merits. Take one
example. In 1863, at the Paris Salon, the Com-
mittee of Selection refused the work of Whistler,
of Manet, of Harpignies, of Legros, of Bracque-
mond, of Fantin-Latour, of C. Pissarro, of Vollon,
and of Chintreuil, and the excuse given was the
old one of eccentricity. Well, the Committee of
Selection had its day, and now we laugh at the
blindness of its self-assurance. Is not that sufficient
revenge ? What more do you need ? "

" I don't mind laughing," said the Man with the
Briar Pipe, "and yet, in 1863, I might have been
on the side of the Committee of Selection. Work
of original talent is an acquired taste, and when-
ever I forget this fact I am pretty certain to babble
out some absurd remark or other about eccentricity.
Perhaps, then, I might have been amongst those
who jeered at Whistler and Daumier, who scoffed
at Millet, sneered at Manet and Degas, ridiculed
the exquisite art displayed in the first importations
of Japanese work, and did many other foolish things
for want of intimacy with the unusual in art."

" What you say," observed the Journalist, " re-
minds me of a remark once made to me by an
explorer, who told me that whenever he had come
upon a rare animal for the first time, he had been
struck by something in its appearance that seemed
abnormal—eccentric. I turned immediately to a
picture-book of animals, and, upon my word, the
unfamiliar ones affected me in the same way. We
ordinary men cannot appreciate the uncommon
in art and nature until we have infused into it
through study some of our own commonplaceness.
Then it becomes friendly, and we are able to be
its students."

" And are we not lucky ? " asked the Critic. " It
genius did not become friendly to us, if we could
not be at ease in its company, we should be over-
whelmed by the stupendous minds with which we
now have such prolonged intercourse. We should
feel what Goethe and Flaubert felt when they
thought of Shakespeare—not ordinary pleasure, but
an awe akin to fear." The Lay Figure.