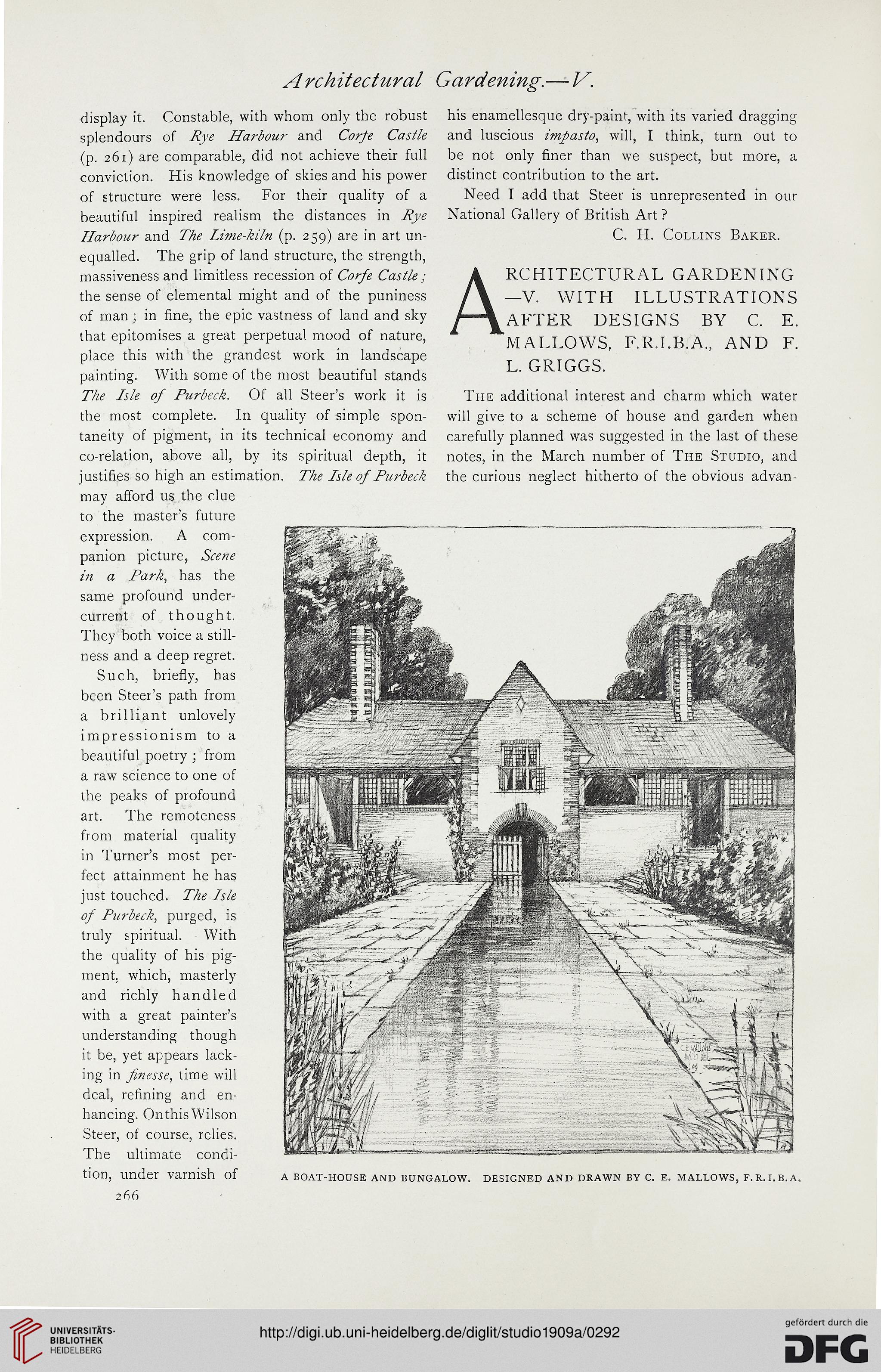 display it. Constable, with whom only the robust
splendours of Rye Harbour and Corfe Castle
(p. 261) are comparable, did not achieve their full
conviction. His knowledge of skies and his power
of structure were less. For their quality of a
beautiful inspired realism the distances in Rye
Harbour and The Lime-kiln (p. 259) are in art un-
equalled. The grip of land structure, the strength,
massiveness and limitless recession of Corfe Castle ;
the sense of elemental might and of the puniness
of man ; in fine, the epic vastness of land and sky
that epitomises a great perpetual mood of nature,
place this with the grandest work in landscape
painting. With some of the most beautiful stands
The Isle of Purbeck. Of all Steer's work it is
the most complete. In quality of simple spon-
taneity of pigment, in its technical economy and
co-relation, above all, by its spiritual depth, it
justifies so high an estimation. The Isle of Purbeck
may afford us the clue
to the master's future
expression. A com-
panion picture, Scene
in a Park, has the
same profound under-
current of thought.

They both voice a still-
ness and a deep regret.

Such, briefly, has
been Steer's path from
a brilliant unlovely
impressionism to a
beautiful poetry ; from
a raw science to one of
the peaks of profound
art. The remoteness
from material quality
in Turner's most per-
fect attainment he has
just touched. The Isle
of Purbeck, purged, is
truly spiritual. With
the quality of his pig-
ment. which, masterly
and richly handled
with a great painter's
understanding though
it be, yet appears lack-
ing in finesse, time will
deal, refining and en-
hancing. Onthis Wilson
Steer, of course, relies.

The ultimate condi-
tion, under varnish of
266

his enamellesque dry-paint, with its varied dragging
and luscious impasto, will, I think, turn out to
be not only finer than we suspect, but more, a
distinct contribution to the art.

Need I add that Steer is unrepresented in our
National Gallery of British Art ?

C. H. Collins Baker.

RCHITECTURAL GARDENING
—V. WITH ILLUSTRATIONS
AFTER DESIGNS BY C. E.
MALLOWS, F.R.I.B.A., AND F.
L. GRIGGS.

The additional interest and charm which water
will give to a scheme of house and garden when
carefully planned was suggested in the last of these
notes, in the March number of The Studio, and
the curious neglect hitherto of the obvious advan-

A BOAT-HOUSE AND BUNGALOW. DESIGNED AND DRAWN BY C. E. MALLOWS, F. R. I.B.A.