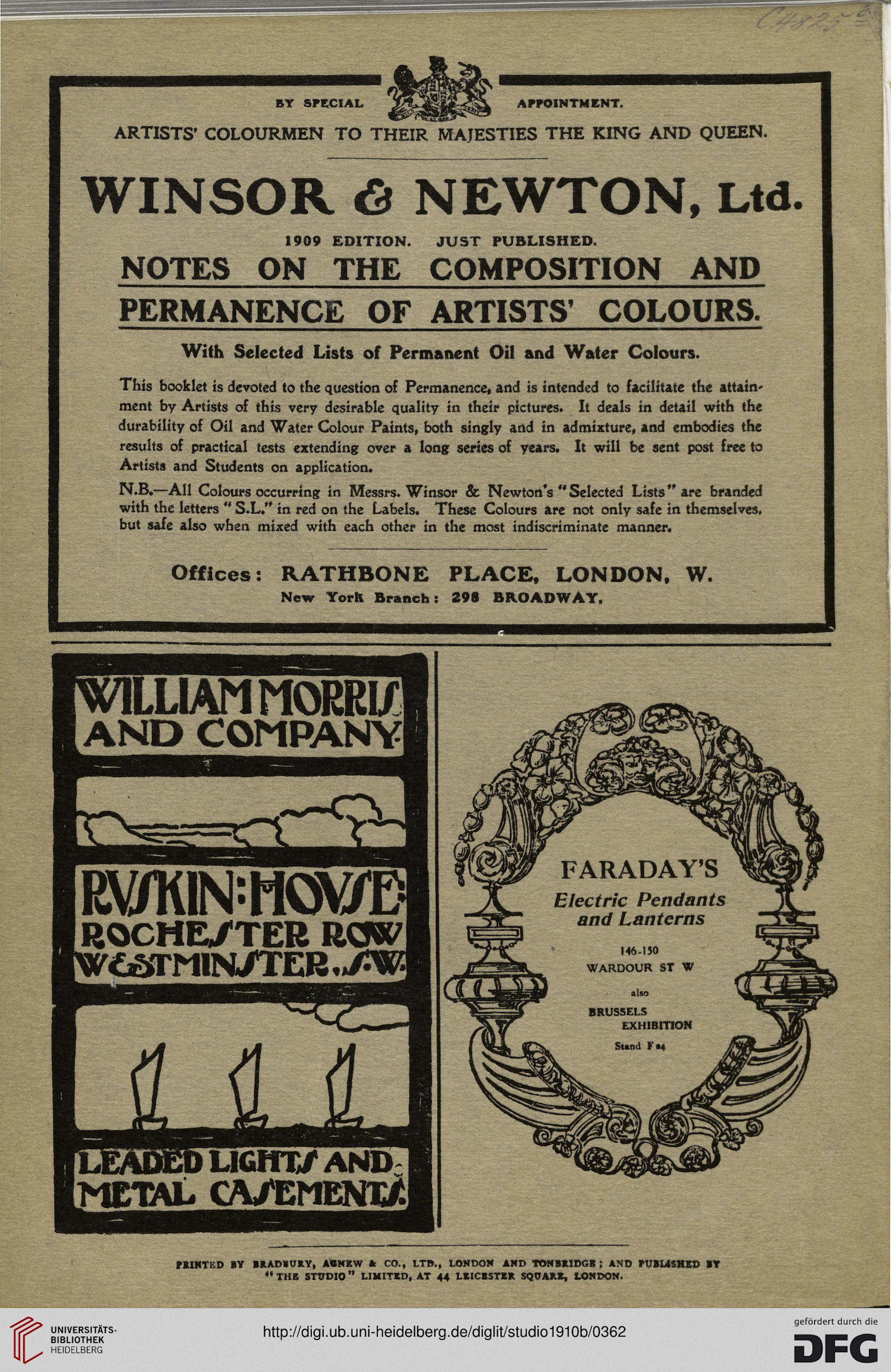 APPOINTMENT.

BT SPECIAL

ARTISTS' COLOURMEN TO THEIR MAJESTIES THE KING AND QUEEN.

WINSOR 6 NEWTON, Ltd.

1909 EDITION. JUST PUBLISHED.

NOTES ON THE COMPOSITION AND
PERMANENCE OF ARTISTS' COLOURS.

With Selected Lists of Permanent Oil and Water Colours.

This booklet is devoted to the question of Permanence, and is intended to facilitate the attain-
ment by Artists of this very desirable quality in their pictures. It deals in detail with the
durability of Oil and Water Colour Paints, both singly and in admixture, and embodies the
results of practical tests extending over a long series of years. It will be sent post free to
Artists and Students on application.

N.B.—All Colours occurring in Messrs. Winsor & Newton's "Selected Lists" are branded
with the letters " S.L." in red on the Labels. These Colours are not only safe in themselves,
but safe also when mixed with each other in the most indiscriminate manner.

Offices:

RATHBONE PLACE, LONDON. W.

New York Branch: 298 BROADWAY,

1LLIAM MORR1/1

AND COMPANY

RVJKINMOV/DI

ROCHESTER RCW|
<E£»TMIN/TER,,

LIGHT/ AND
[METAL CA/EMENT/.I

PRINTED BY IRADIURY, ASNRW k CO., LTD., LONDON AND TONBR1DGB ; AND PUBLISHED BY
44 THE STUDIO " LIMITED, AT 44 LEICESTER SQUARE, LONDON.