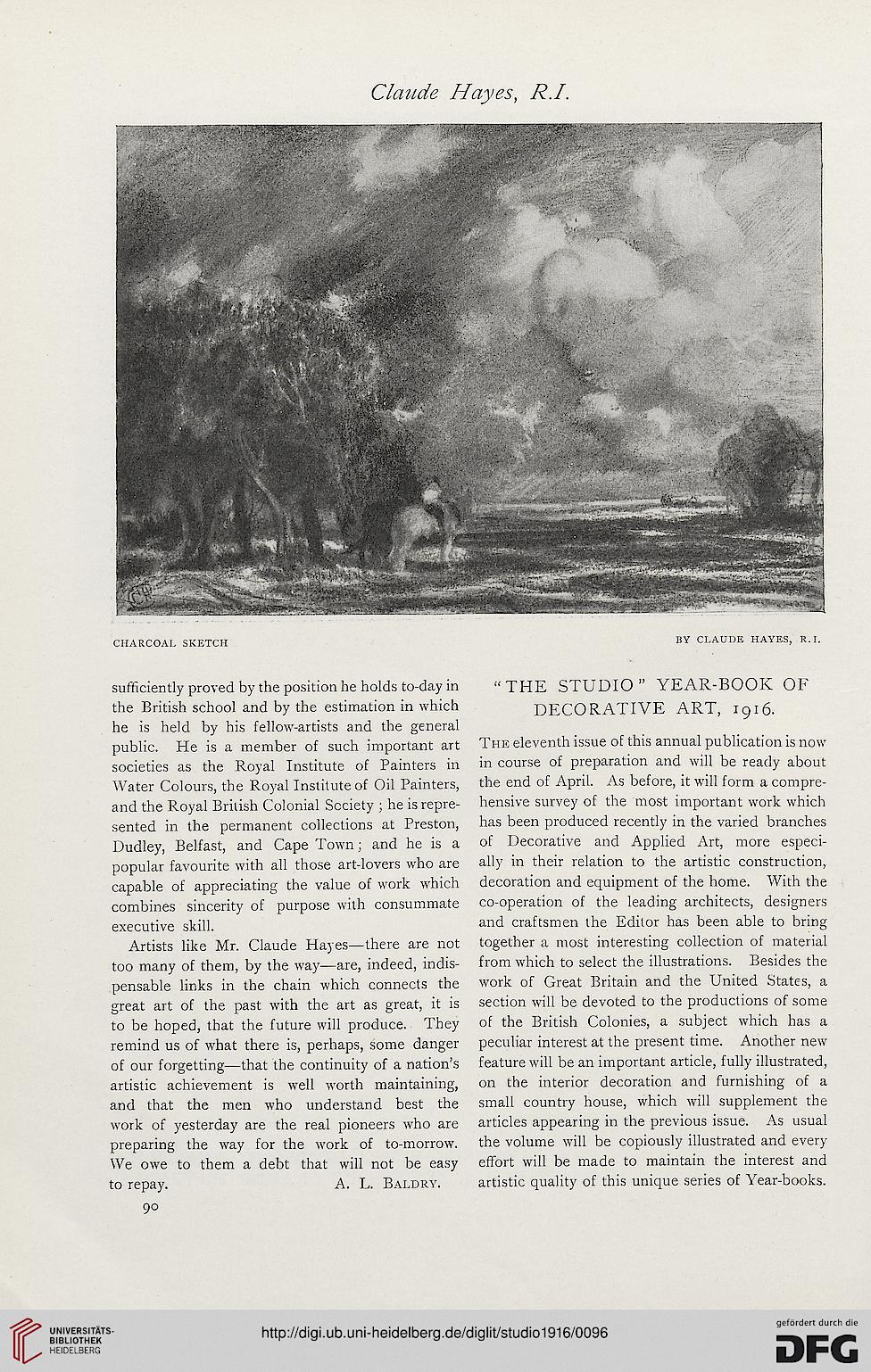 CHARCOAL SKETCH BY CLAUDE HAYES, R.I.

sufficiently proved by the position he holds to-day in
the British school and by the estimation in which
he is held by his fellow-artists and the general
public. He is a member of such important art
societies as the Royal Institute of Painters in
Water Colours, the Royal Institute of Oil Painters,
and the Royal British Colonial Society ; he is repre-
sented in the permanent collections at Preston,
Dudley, Belfast, and Cape Town; and he is a
popular favourite with all those art-lovers who are
capable of appreciating the value of work which
combines sincerity of purpose with consummate
executive skill.

Artists like Mr. Claude Hayes—there are not
too many of them, by the way—are, indeed, indis-
pensable links in the chain which connects the
great art of the past with the art as great, it is
to be hoped, that the future will produce. They
remind us of what there is, perhaps, some danger
of our forgetting—that the continuity of a nation's
artistic achievement is well worth maintaining,
and that the men who understand best the
work of yesterday are the real pioneers who are
preparing the way for the work of to-morrow.
We owe to them a debt that will not be easy
to repay. A. L. Baldry.

90

"THE STUDIO" YEAR-BOOK OF
DECORATIVE ART, 1916.

The eleventh issue of this annual publication is now
in course of preparation and will be ready about
the end of April. As before, it will form a compre-
hensive survey of the most important work which
has been produced recently in the varied branches
of Decorative and Applied Art, more especi-
ally in their relation to the artistic construction,
decoration and equipment of the home. With the
co-operation of the leading architects, designers
and craftsmen the Editor has been able to bring
together a most interesting collection of material
from which to select the illustrations. Besides the
work of Great Britain and the United States, a
section will be devoted to the productions of some
of the British Colonies, a subject which has a
peculiar interest at the present time. Another new
feature will be an important article, fully illustrated,
on the interior decoration and furnishing of a
small country house, which will supplement the
articles appearing in the previous issue. As usual
the volume will be copiously illustrated and every
effort will be made to maintain the interest and
artistic quality of this unique series of Year-books.