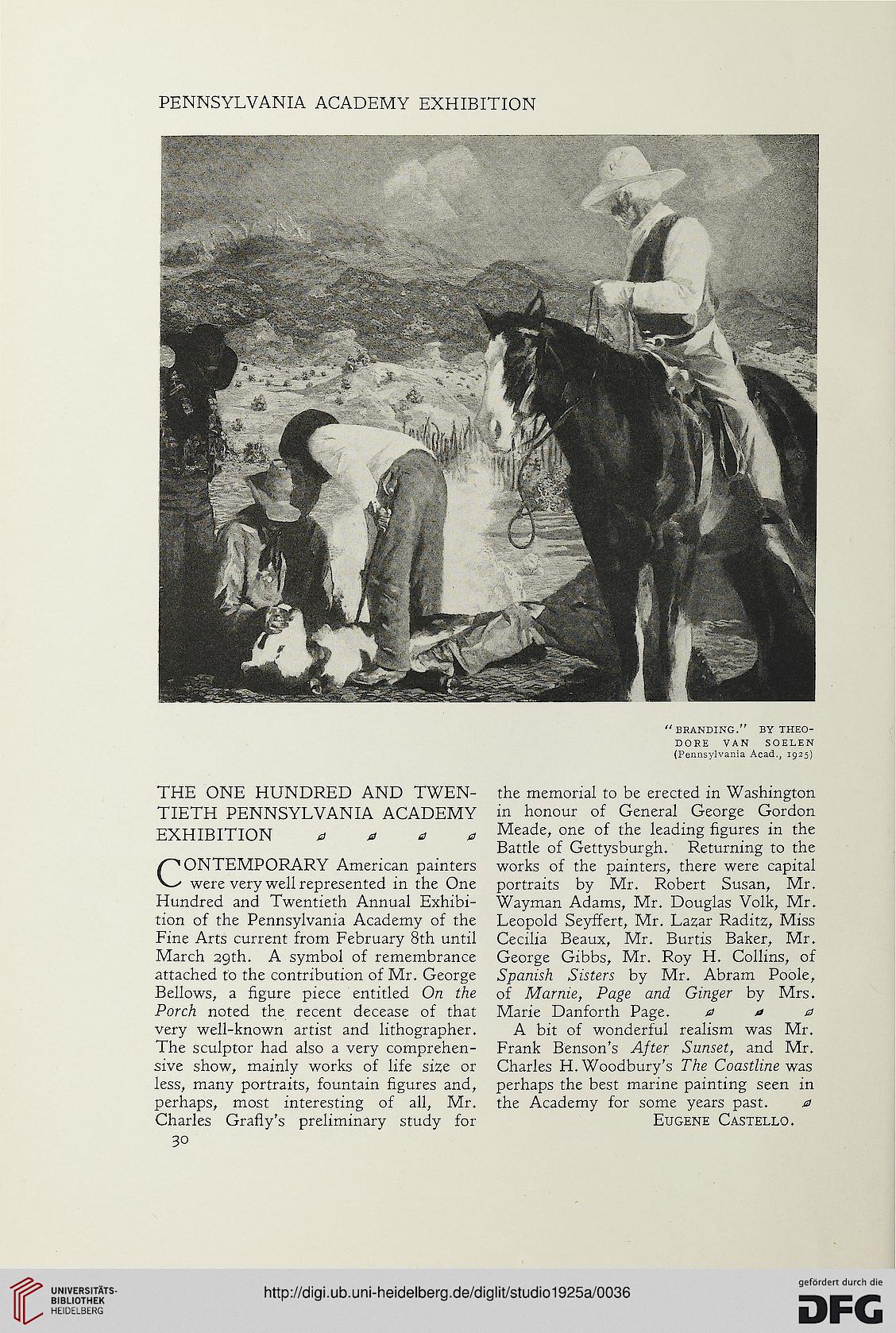 "BRANDING." BY THEO-
DORE VAN SOELEN

(Pennsylvania Acad., 1925)

THE ONE HUNDRED AND TWEN-
TIETH PENNSYLVANIA ACADEMY
EXHIBITION 000a

CONTEMPORARY American painters
were very well represented in the One
Hundred and Twentieth Annual Exhibi-
tion of the Pennsylvania Academy of the
Fine Arts current from February 8th until
March 29th. A symbol of remembrance
attached to the contribution of Mr, George
Bellows, a figure piece entitled On the
Porch noted the recent decease of that
very well-known artist and lithographer.
The sculptor had also a very comprehen-
sive show, mainly works of life size or
less, many portraits, fountain figures and,
perhaps, most interesting of all, Mr.
Charles Grafly's preliminary study for
30

the memorial to be erected in Washington
in honour of General George Gordon
Meade, one of the leading figures in the
Battle of Gettysburgh. Returning to the
works of the painters, there were capital
portraits by Mr. Robert Susan, Mr.
Wayman Adams, Mr. Douglas Volk, Mr.
Leopold Seyffert, Mr. Lazar Raditz, Miss
Cecilia Beaux, Mr. Burtis Baker, Mr.
George Gibbs, Mr. Roy H. Collins, of
Spanish Sisters by Mr. Abram Poole,
of Mamie, Page and Ginger by Mrs.
Marie Danforth Page. 0 a 0
A bit of wonderful realism was Mr.
Frank Benson's After Sunset, and Mr.
Charles H.Woodbury's The Coastline was
perhaps the best marine painting seen in
the Academy for some years past. 0

Eugene Castello.