Herrn Pitton von Tournefort ... Beschreibung einer auf königlichen Befehl unternommenen Reise nach der Levante
Nürnberg
Erste deutsche Ausgabe der berühmten, erstmals 1717 in Paris erschienenen Reisebeschreibung.
Joseph Pitton de Tournefort (1656 - 1708)
, einer der großen Botaniker und Forschungsreisender seiner Zeit, kam im Auftrag Ludwigs XIV. über die griechischen Inseln in die Türkei und zur Schwarzmeerküste bis nach Georgien und Armenien. Die über 140 Kupfertafeln zeigen Ansichten, Pläne und Karten sowie zahlreiche Darstellungen von Altertümern, Pflanzen, Tieren und Kostümen.
Citation link: https://digi.ub.uni-heidelberg.de/diglit/tournefort1776ga
URN: urn:nbn:de:bsz:16-diglit-42952
DOI: https://doi.org/10.11588/diglit.4295
Metadata: METS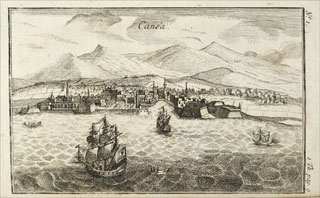 There are annotations to this facsimile. Individual pages with annotations are marked in "Overview" with the symbol .
All related items