Universitätsarchiv Heidelberg, XII,1 Nr. 44/26
1618 Februar 23, Ausfertigung
Christian Sebastian Hügelig beurkundet, dass er sich zur Instandhaltung seiner Mühlen bei Lauterecken von seinem Schwager Johann Bosch 81 Königstaler und 30 Gulden geliehen hat, die er ihm so bald wie möglich zurückzuzahlen verspricht. Er setzt sein Drittel an der Wintersheimer Korngülte in Höhe von 22 Malter als Unterpfand ein. Actum 23ter Februar 1618 In Heidelberg. [vgl.
XII,1 Nr. 44/25
]
Description: Wasser- und Schimmelschäden; eigenhändige Unterschrift
Seal:
1: Christian Sebastian Hügelig, Lacksiegel, 1 x 1 cm
Watermark exists.
Material/Medium: Papier, Dimensions: 32,5 x 20 cm
Extent: 2 Blätter
Provenance: Altsignaturen: Cod. Heid. 385, 41F; No. 6
Language: German

Citation link: https://digi.ub.uni-heidelberg.de/diglit/uah_XII-1_44-26
URN: urn:nbn:de:bsz:16-diglit-455092
DOI: https://doi.org/10.11588/diglit.45509
Metadata: METS
IIIF Manifest: v2.1, v3.0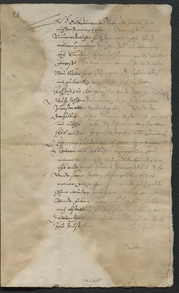 There are annotations to individual pages of this facsimile. Individual pages with annotations are marked in "Overview" with the symbol .
Content