Universitätsarchiv Heidelberg, XII,1 Nr. 44/27
Heidelberg, 1618 Dezember 25, Ausfertigung
Die Universität Heidelberg und Balthasar Baumbach, Lehrer der griechischen und hebräischen Sprache sowie Verwalter des Collegium Casimirianum, beurkunden, dass sie sich zum Kauf einer Gülte für das Collegium über Wolfgang Loss, Medizinprofessor und Verwalter des Universitätsspitals (Nosocomium), und Lenhard Reipel, Universitätskollektor, aus dem Fiskus des Spitals 200 Gulden geliehen haben. Sie versprechen den Betrag durch eine jährliche Ratenzahlung von 10 Gulden zu erstatten. So geschehen Zue Heidelberg vf Weihnachten den 25ten 10bris Im Iahr nach Christi geburtt, alß mann Zahltt 1618. [vgl.
XII,1 Nr. 44/28, 44/29, 44/30, 44/31
]
Description: Starke Wasser- und Schimmelschäden
Seal:
1: Rektor, Papiersiegel, 4 x 4 cm
References: Drüll, GLEX I, 2002, S. 33, 357 f.
Watermark exists.
Material/Medium: Papier, Dimensions: 33 x 20 cm
Extent: 2 Blätter
Provenance: Universität Heidelberg; Altsignaturen: A; N. 10
Language: German

Citation link: https://digi.ub.uni-heidelberg.de/diglit/uah_XII-1_44-27
URN: urn:nbn:de:bsz:16-diglit-455101
DOI: https://doi.org/10.11588/diglit.45510
Metadata: METS
IIIF Manifest: v2.1, v3.0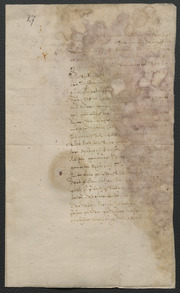 There are annotations to individual pages of this facsimile. Individual pages with annotations are marked in "Overview" with the symbol .
Content