Universitätsarchiv Heidelberg, XII,1 Nr. 45/5
1665 Juni 5, Ausfertigung
Pfalzgraf und Kurfürst Karl Ludwig zitiert Johann von Leuneschlos, Doktor der Medizin und Professor der Mathematik, Sebastian Ramspeck, Professor der praktischen Philosophie, und Ezechias Hiskias, Pfarrer der lutherischen Gemeinde, vor das Hofgericht, um dort als Zeugen im Fall der Sophia Felicitas Haffner auszusagen. Geben Heidelberg unter Unserm hievorgedruckten gewöhnlichem Hoffgerichts Insigel den 5ten Junii 1665.
Description: Wasserschäden, mit Archivklebeband restauriert; Stempelmarke (Papiersiegel, 2,5 x 2,5 cm) mit Handzeichen
Seal:
1: Kurpfälzisches Hofgericht Heidelberg, Beschädigtes Papiersiegel, 5 x 5 cm
References: Drüll, GLEX II, 1991, S. 93 f., 123
Watermark exists.
Material/Medium: Papier, Dimensions: 32 x 20,5 cm
Extent: 2 Blätter
Provenance: Universität Heidelberg
Language: German

Citation link: https://digi.ub.uni-heidelberg.de/diglit/uah_XII-1_45-5
URN: urn:nbn:de:bsz:16-diglit-455148
DOI: https://doi.org/10.11588/diglit.45514
Metadata: METS
IIIF Manifest: v2.1, v3.0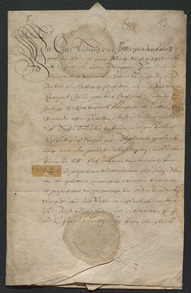 There are annotations to individual pages of this facsimile. Individual pages with annotations are marked in "Overview" with the symbol .
Content