Universitätsarchiv Heidelberg, XII,1 Nr. 81/4b
[Weidas], 1536 Dezember 4, Abschrift
Die Äbtissin Apollonia von Frankenstein beurkundet gemeinsam mit dem Konvent des Klosters Weidas, dass sie dem Kaspar Lerch von Dirmstein ihre Mühle zu Gau-Heppenheim, die mit 120 Gulden belastet war, samt einer Gülte von 15 Malter Korn von ihrem Hof in Dolgesheim um 150 Gulden verkauft haben. Der Konvent behält sich das Recht auf Rückkauf vor. Gescheen vnd geben vff Montag nach sanct Endress tag Im Iar nach Christi vnsers herren gepurt, Dausent, funfhundert, vnnd sechs vnd dreissig.

Description: Leichte Wasserschäden
References: Rödel, Regesten, 1986, Nr. 44
Watermark exists.

Material/Medium: Papier, Dimensions: 29,5 x 20,5 cm
Extent: 4 Blätter
Provenance: Kloster Weidas; Altsignaturen: Cod. Heid. 385, 39C
Language: German

Citation link: https://digi.ub.uni-heidelberg.de/diglit/uah_XII-1_81-4b
URN: urn:nbn:de:bsz:16-diglit-455314
DOI: https://doi.org/10.11588/diglit.45531
Metadata: METS
IIIF Manifest: https://digi.ub.uni-heidelberg.de/diglit/iiif/uah_XII-1_81-4b/manifest.json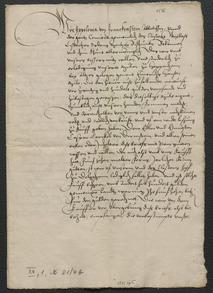 There are annotations to this facsimile. Individual pages with annotations are marked in "Overview" with the symbol .
Content