Universitätsarchiv Heidelberg, XII,2 Nr. 155
Lambrecht, 1766 Februar 1, Ausfertigung
Schultheiß und Gericht von Lambrecht beurkunden, dass sie sich mit den Vorgaben der Universität Heidelberg, welche die Verpachtung des Lambrechter Grundbesitzes betrifft, einverstanden erklären. Zuvor hatte die Gemeinde etliche Besitzungen genutzt, ohne der Universität die erforderlichen Abgaben zu leisten. Aus Kulanz und auf Bitten der Lambrechter Bürgerschaft stellte die Universität einen Katalog mit Bedingungen für die weitere Vorgehensweise auf. Lamprecht den 1 Februar 1766.
Description: Eigenhändige Unterschriften
Seal:
1: Gericht Lambrecht, Wachssiegel in Holzkapsel an blau-weißen Bändern, 3 x 3 cm
Material/Medium: Pergament, Dimensions: 38 x 42 cm
Extent: 1 Blatt
Provenance: Schaffnei Lambrecht; Altsignaturen: Schr.II, P.10, Nr.5
Language: German

Citation link: https://digi.ub.uni-heidelberg.de/diglit/uah_XII-2_155
URN: urn:nbn:de:bsz:16-diglit-457603
DOI: https://doi.org/10.11588/diglit.45760
Metadata: METS
IIIF Manifest: v2.1, v3.0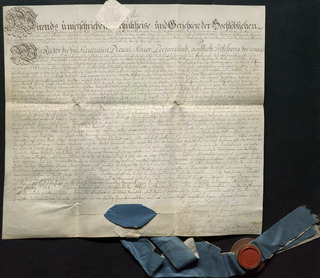 There are annotations to individual pages of this facsimile. Individual pages with annotations are marked in "Overview" with the symbol .
Content