Universitätsarchiv Heidelberg, XII,2 Nr. 78
1538 Dezember 18, Ausfertigung
Graf Kuno II. von Leiningen-Westerburg beurkundet, dass Dekan und Kapitel des Stifts Zell dem Grafen und seinem Sohn Georg jährlich 20 Gulden auf zwei Termine verteilt vorstrecken. Der Graf setzt als Sicherheit seinen Zehnten zu Monsheim als Unterpfand. Geben vnd Beschehen Inn Vrkhunde mit vnserm Graue Chuns Anerpornen Grauelichen anhangendem Ingesiegell am Achtzehenden tag des Monats decembris Inn Iorn Nach Christi vnßers seligmachers vnd erloßers gepurth. Thaußent, Funffhundert Dreissigk vnd Acht.
Description: Stockflecken, Schimmelspuren
Seal:
1: Kuno II., Siegel fehlt
References: Lehmann, Zell, 1845, S. 13
Material/Medium: Pergament, Dimensions: 30 x 37 cm
Extent: 1 Blatt
Provenance: Stift Zell; Altsignaturen: Schr.II, P.6, Nr.3a
Language: German

Citation link: https://digi.ub.uni-heidelberg.de/diglit/uah_XII-2_78
URN: urn:nbn:de:bsz:16-diglit-457029
DOI: https://doi.org/10.11588/diglit.45702
Metadata: METS
IIIF Manifest: v2.1, v3.0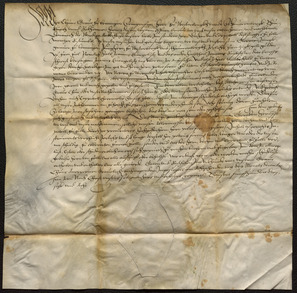 There are annotations to individual pages of this facsimile. Individual pages with annotations are marked in "Overview" with the symbol .
Content