Universitätsarchiv Heidelberg, XII,2 Nr. 904
1577 Februar 22, Ausfertigung
Peter Senckh und seine Ehefrau Anna, Hans Reuplich und seine Ehefrau Eliasbeth [sic!], Ludwig Eberman und seine Ehefrau Margretha, Elias Raudenbuch und seine Ehefrau Catharina sowie Niclaus Ottlein und seine Ehefrau Catharina, alle Gemeindeleute zu Obrigheim, verkaufen mit Erlaubnis des Konrad von Obentraut, Junker, Vogt zu Mosbach und Oberamtmann, Rektor und Universität Heidelberg als Verwalter des Dionysianums eine jährlich zu reichende Gülte von 2 1/2 Gulden um 50 Gulden. Als Sicherheit stellen die Verkäufer verschiedene Güter, in Obrigheimer Gemarkung gelegen, als Unterpfänder. Sollten die Verkäufer mit der Zahlung der Gülte säumig sein, können die Käufer die Unterpfänder in dem Maße einziehen, bis die ausstehende Summe abgegolten ist. Ferner behalten sich die Verkäufer das Rückkaufsrecht vor. Geben vff Peter Stuelfeyrers tag, Cathedra Petri genant, Alls man nach Christi vnsers Lieben herrn erlößers, vndt Ainigen seeligmachers geburth zalete, Taußendt, Funffhundert, Siebenzieg vndt Sieben Ihare.
Seal:
1: Hans Albrecht Eisenmenger, Keller zu Neckarelz, Siegel fehlt
Material/Medium: Pergament, Dimensions: 28,2 x 47,6 cm
Extent: 1 Blatt
Provenance: Universität Heidelberg; Altsignaturen: Schr.III, P.37, Nr.16; No.71
Language: German

Citation link: https://digi.ub.uni-heidelberg.de/diglit/uah_XII-2_904
URN: urn:nbn:de:bsz:16-diglit-464761
DOI: https://doi.org/10.11588/diglit.46476
Metadata: METS
IIIF Manifest: v2.1, v3.0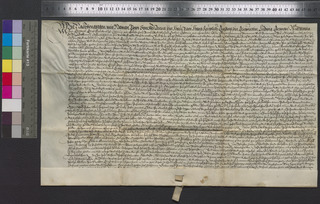 There are annotations to individual pages of this facsimile. Individual pages with annotations are marked in "Overview" with the symbol .
Content