Imagines Et Elogia Virorvm Illvstrivm Et Ervditor[um] Ex Antiqvis Lapidibvs Et Nomismatib[us] Expressa
Venedig, 1570 [Cicognara, 2120-3]
Fulvius Ursinus / Fulvio Orsini (1529-1600) war Bibliothekar und Antiquar bei Allesandro Farnese. Er besaß selbst eine bedeutende Sammlung von Münzen, Gemmen, Inschriften, Reliefs und Büsten. In seinen 1570 erschienenen "Imagines" veröffentlichte er in einer Art beschreibendem Katalog verschiedene Stücke aus seiner Sammlung, so u.a. Bildnisse berühmter Philosophen, stellte im Text das damals bekannte zu den Dargestellten zusammen und schloss Monumente aus anderen römischen Sammlungen in seine Betrachtung mit ein. Das Buch schließt mit einem Kapitel über römische Bibliotheken.
Citation link: https://digi.ub.uni-heidelberg.de/diglit/ursinus1570
URN: urn:nbn:de:bsz:16-diglit-35262
DOI: https://doi.org/10.11588/diglit.3526
Metadata: METS
IIIF Manifest: https://digi.ub.uni-heidelberg.de/diglit/iiif/ursinus1570/manifest.json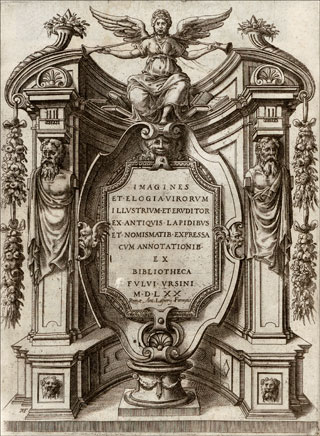 There are annotations to individual pages of this facsimile. Individual pages with annotations are marked in "Overview" with the symbol .
Content