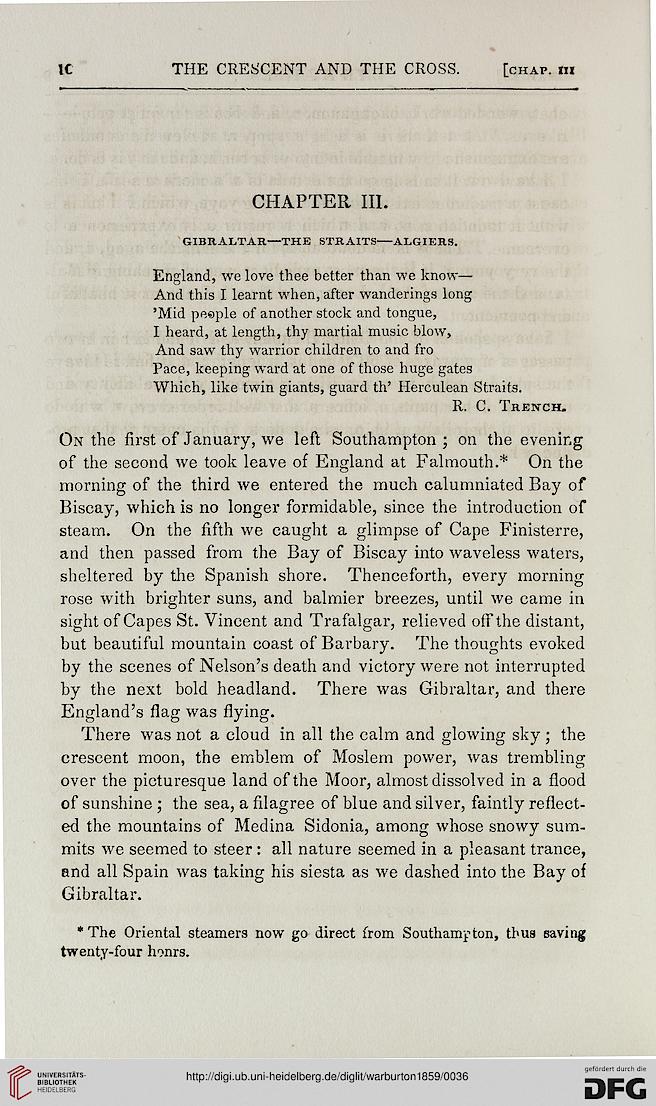 THE CRESCENT AND THE CROSS.

[chap. Ill

CHAPTER III.

gibraltar—the straits-algiers.

England, we love thee better than we know—
And this I learnt when, after wanderings long
'Mid peeple of another stock and tongue,
I heard, at length, thy martial music blow,
And saw thy warrior children to and fro
Pace, keeping ward at one of those huge gates
Which, like twin giants, guard th' Herculean Straits.

R. C. Trench.

On the first of January, we left Southampton ; on the evening
of the second we took leave of England at Falmouth.* On the
morning of the third we entered the much calumniated Bay of
Biscay, which is no longer formidable, since the introduction of
steam. On the fifth we caught a glimpse of Cape Finisterre,
and then passed from the Bay of Biscay into waveless waters,
sheltered by the Spanish shore. Thenceforth, every morning
rose with brighter suns, and balmier breezes, until we came in
sight of Capes St. Vincent and Trafalgar, relieved off the distant,
but beautiful mountain coast of Barbary. The thoughts evoked
by the scenes of Nelson's death and victory were not interrupted
by the next bold headland. There was Gibraltar, and there
England's flag was flying.

There was not a cloud in all the calm and glowing sky ; the
crescent moon, the emblem of Moslem power, was trembling
over the picturesque land of the Moor, almost dissolved in a flood
of sunshine ; the sea, a filagree of blue and silver, faintly reflect-
ed the mountains of Medina Sidonia, among whose snowy sum-
mits we seemed to steer : all nature seemed in a pleasant trance,
and all Spain was taking his siesta as we dashed into the Bay of
Gibraltar.

* The Oriental steamers now go direct from Southampton, thus saving
twenty-four honrs.