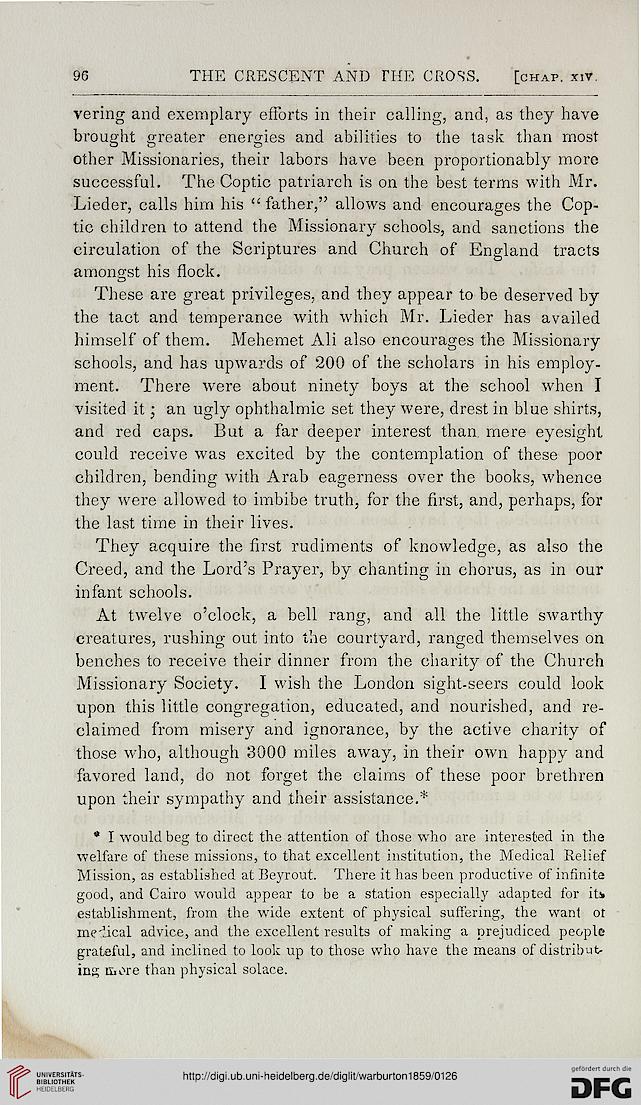 THE CRESCENT AND THE CROSS. [chap. xiv.

vering and exemplary efforts in their calling, and, as they have
brought greater energies and abilities to the task than most
other Missionaries, their labors have been proportionably more
successful. The Coptic patriarch is on the best terms with Mr.
Lieder, calls him his " father," allows and encourages the Cop-
tic children to attend the Missionary schools, and sanctions the
circulation of the Scriptures and Church of England tracts
amongst his flock.

These are great privileges, and they appear to be deserved by
the tact and temperance with which Mr. Lieder has availed
himself of them. Mehemet Ali also encourages the Missionary
schools, and has upwards of 200 of the scholars in his employ-
ment. There were about ninety boys at the school when I
visited it; an ugly ophthalmic set they were, drest in blue shirts,
and red caps. But a far deeper interest than mere eyesight
could receive was excited by the contemplation of these poor
children, bending with Arab eagerness over the books, whence
they were allowed to imbibe truth, for the first, and, perhaps, for
the last time in their lives.

They acquire the first rudiments of knowledge, as also the
Creed, and the Lord's Prayer, by chanting in chorus, as in our
infant schools.

At twelve o'clock, a bell rang, and all the little swarthy
creatures, rushing out into the courtyard, ranged themselves on
benches to receive their dinner from the charity of the Church
Missionary Society. I wish the London sight-seers could look
upon this little congregation, educated, and nourished, and re-
claimed from misery and ignorance, by the active charity of
those who, although 3000 miles away, in their own happy and
favored land, do not forget the claims of these poor brethren
upon their sympathy and their assistance.*

* I would beg to direct the attention of those who are interested in the
welfare of these missions, to that excellent institution, the Medical Relief
Mission, as established at Beyrout. There it has been productive of infinite
good, and Cairo would appear to be a station especially adapted for it*
establishment, from the wide extent of physical suffering, the want ot
medical advice, and the excellent results of making a prejudiced people
grateful, and inclined to look up to those who have the means of distribut-
ing riore than physical solace.