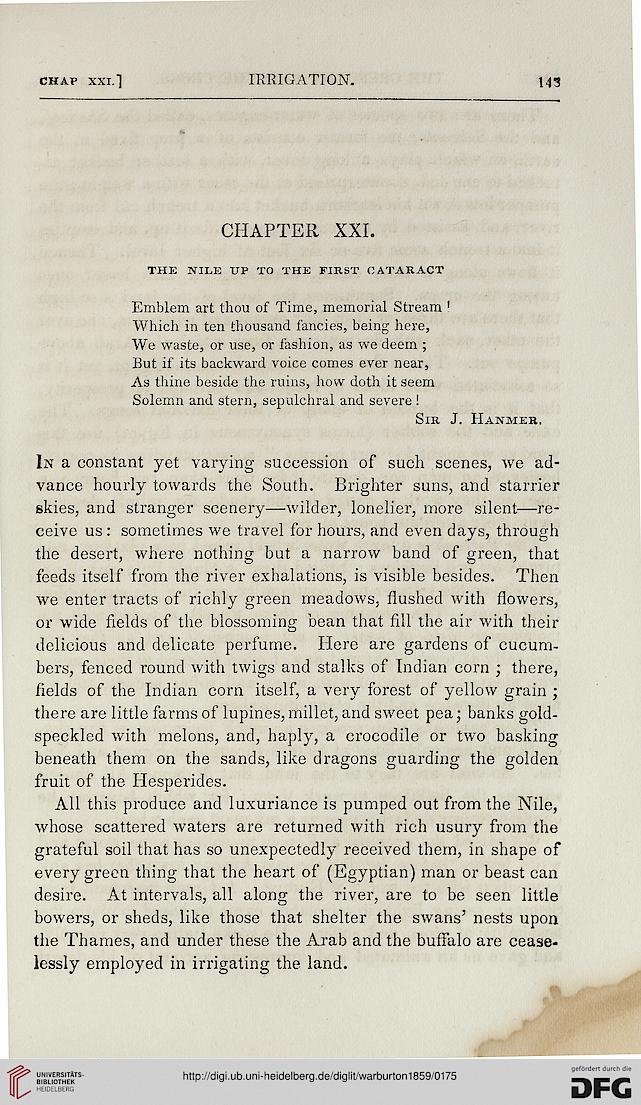 IRRIGATION.

CHAPTER XXI.

the nile up to the first cataract

Emblem art thou of Time, memorial Stream 1
Which in ten thousand fancies, being here,
We waste, or use, or fashion, as we deem ;
But if its backward voice comes ever near,
As thine beside the ruins, how doth it seem
Solemn and stern, sepulchral and severe!

Sir J. Hanmer.

In a constant yet varying succession of such scenes, we ad-
vance hourly towards the South. Brighter suns, and starrier
skies, and stranger scenery—wilder, lonelier, more silent—re-
ceive us : sometimes we travel for hours, and even days, through
the desert, where nothing but a narrow band of green, that
feeds itself from the river exhalations, is visible besides. Then
we enter tracts of richly green meadows, flushed with flowers,
or wide fields of the blossoming bean that fill the air with their
delicious and delicate perfume. Here are gardens of cucum-
bers, fenced round with twigs and stalks of Indian corn ; there,
fields of the Indian corn itself, a very forest of yellow grain ;
there are little farms of lupines, millet, and sweet pea; banks gold-
speckled with melons, and, haply, a crocodile or two basking
beneath them on the sands, like dragons guarding the golden
fruit of the Hesperides.

All this produce and luxuriance is pumped out from the Nile,
whose scattered waters are returned with rich usury from the
grateful soil that has so unexpectedly received them, in shape of
every green thing that the heart of (Egyptian) man or beast can
desire. At intervals, all along the river, are to be seen little
bowers, or sheds, like those that shelter the swans' nests upon
the Thames, and under these the Arab and the buffalo are cease-
lessly employed in irrigating the land.