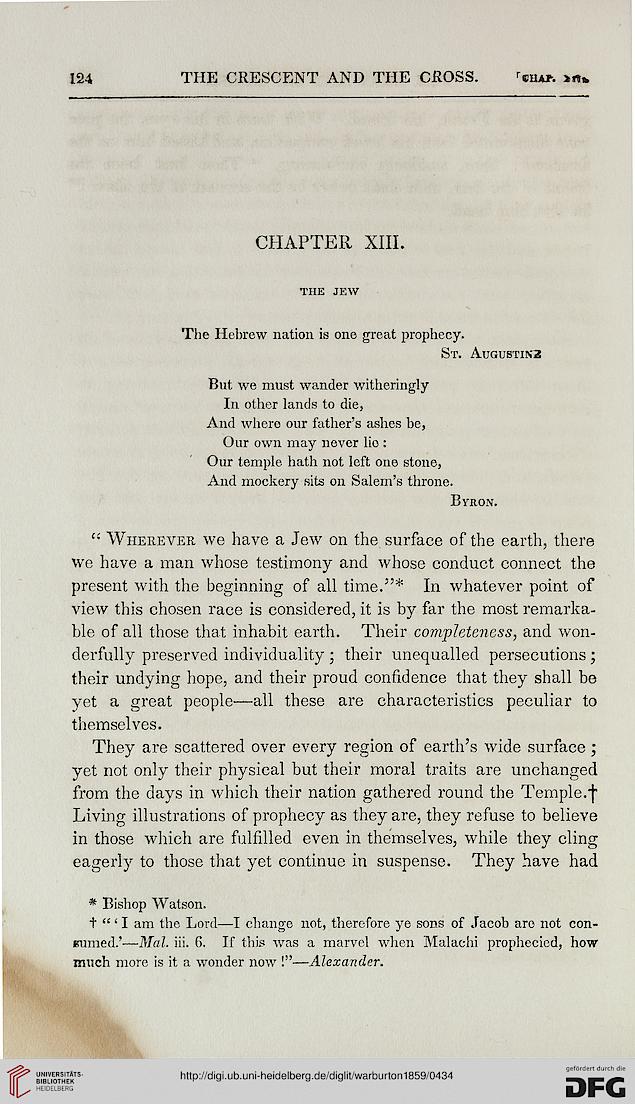 THE CRESCENT AND THE CROSS.

CHAPTER XIII.

the jew

The Hebrew nation is one great prophecy.

St. Augustin2

But we must wander witheringly

In other lands to die,
And where our father's ashes be,

Our own may never lio :
Our temple hath not left one stone,
And mockery sits on Salem's throne.

Byron.

'•' Wherever we have a Jew on the surface of the earth, there
we have a man whose testimony and whose conduct connect the
present with the beginning of all time."* In whatever point of
view this chosen race is considered, it is by far the most remarka-
ble of all those that inhabit earth. Their completeness, and won-
derfully preserved individuality ; their unequalled persecutions ;
their undying hope, and their proud confidence that they shall be
yet a great people—all these are characteristics peculiar to
themselves.

They are scattered over every region of earth's wide surface;
yet not only their physical but their moral traits are unchanged
from the days in which their nation gathered round the Temple."f"
Living illustrations of prophecy as they are, they refuse to believe
in those which are fulfilled even in themselves, while they cling
eagerly to those that yet continue in suspense. They have had

* Bishop Watson.

t " ' I am the Lord—I change not, therefore ye sons of Jacob are not con-
Bumed.'—Mai. iii. G. If this was a marvel when Malachi prophecied, how
much more is it a wonder now !"—Alexander.