Berlin, 4.1930,39 - 18.1944
siehe auch
"Die Kunstauktion : internat. Nachrichtenblatt des gesamten Kunstmarktes" (1.1927 - 4.1930,38)
Engl. Parallelsacht. bis 18.1944: Art of the world. - Franz. Parallelsacht. bis 18.1944: Monde des arts. - Zusatz anfangs: offizielles Organ der Berufsgruppe des Österreichischen Antiquitätenhandels, des Landesgremiums Wien für den Handel mit Gemälden, Antiquitäten, Kunstgegenständen und Briefmarken und des Landesgremiums des Handels mit Antiquitäten und Kunstgegenständen für Salzburg. - Zusatz anfangs: Sprachrohr der CINDA im deutschsprachigen Raum sowie offizielles Organ des Verbandes Schweizerischer Antiquare und Kunsthändler sowie Verbandsblatt der Vereeniging van Handelaren in Oude Kunst in Nederland.
Citation link: https://digi.ub.uni-heidelberg.de/diglit/wk
URN: urn:nbn:de:bsz:16-diglit-445764
DOI: https://doi.org/10.11588/diglit.44576
Metadata: METS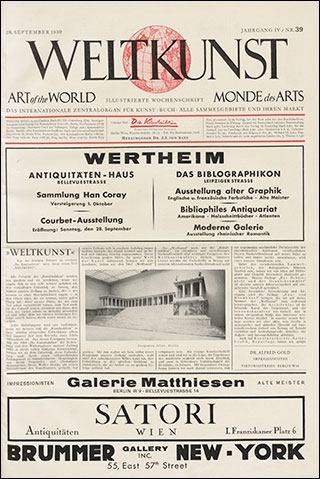 There are annotations to individual pages of this facsimile. Individual pages with annotations are marked in "Overview" with the symbol .
All related items