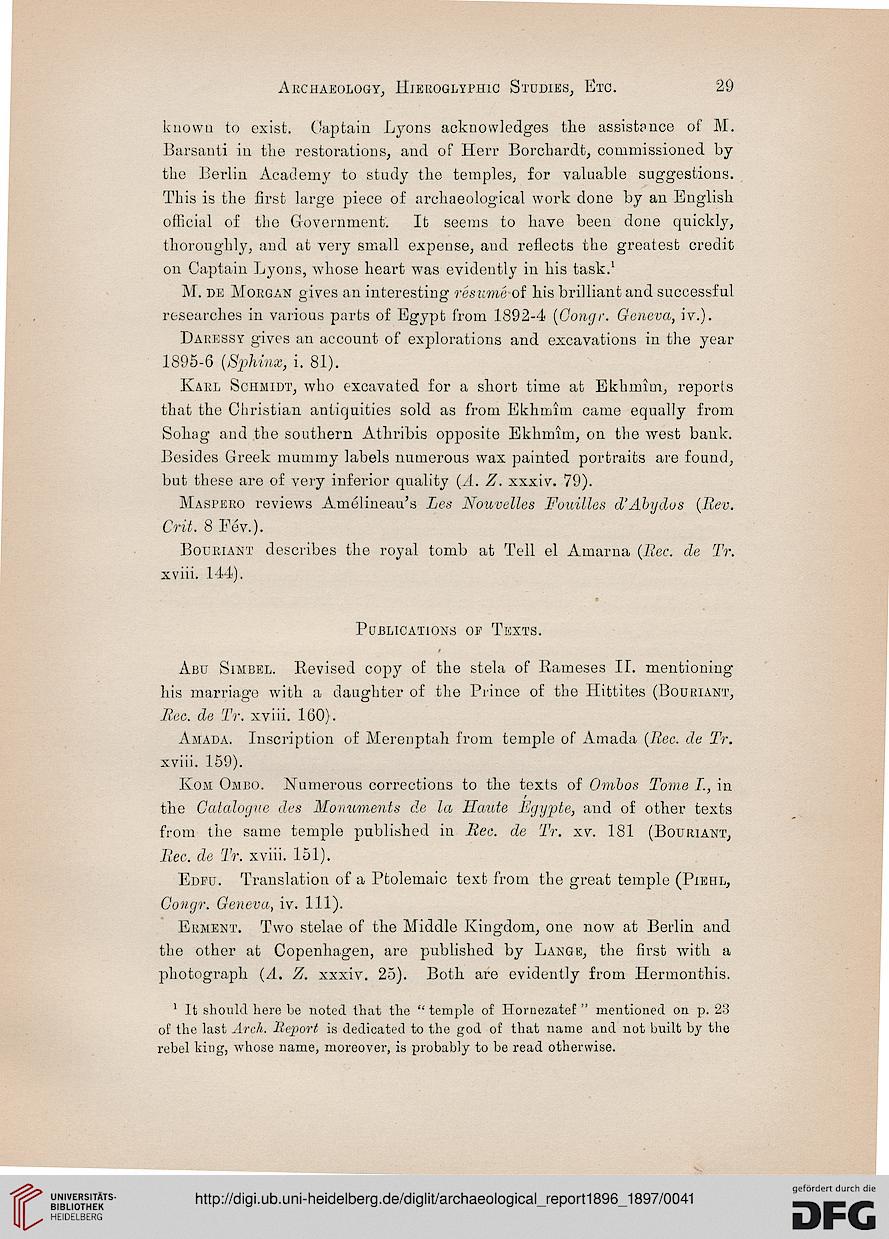 Archaeology, Hieroglyphic Studies, Etc.

29

kiiowa to exist. Captain Lyons acknowledges the assistance of M.
Barsauti in the restorations, and of Herr Borcbardt, commissioned by
the Berlin Academy to study the temples, for valuable suggestions.
This is the first large piece of archaeological work done by an English
official of the Government. It seems to have been done quickly,
thoroughly, and at very small expense, and reflects the greatest credit
on Captain Lyons, whose heart was evidently in his task.1

M. de Morgan gives an interesting resume of his brilliant and successful
researches in various parts of Egypt from 1892-4 (Oongr. Geneva, iv.).

Daressy gives an account of explorations and excavations in the year
1895-6 (Sphinx, i. 81).

Karl Schmidt, who excavated for a short time afc Ekhmim, reports
that the Christian antiquities sold as from Ekhnjim came equally from
Soling and the southern Athribis opposite Ekhmim, on the west bank.
Besides Greek mummy labels numerous wax painted portraits are found,
but these are of very inferior quality (A. Z. xxxiv. 79).

Maspero reviews Amelineau's Les Nouvelles Fouilles d'Abydos (Rev.
Crit. 8 Eev.).

Bocriant describes the royal tomb at Tell el Amarna (Eec. de Tr.
xviii. 144).

Publications op Texts.

Abu Simbel. Revised copy of the stela of Rameses II. mentioning
his marriage with a daughter of the Prince of the Hittites (Boueiant,
Eec. de Tr. xviii. 160).

Amada. Inscription of Merenptah from temple of Amada (Rec. de Tr.
xviii. 159).

Kom Ombo. Numerous corrections to the texts of Ombos Tome L, in
the Catalogue des Monuments de la Haute Egypte, and of other texts
from the same temple published in Rec. de Tr. xv. 181 (Bouriant,
Rec. de Tr. xviii. 151).

Edeu. Translation of a Ptolemaic text from the great temple (Piehl,
Congr. Geneva, iv. 111).

Erhent. Two stelae of the Middle Kingdom, one now at Berlin and
the other at Copenhagen, are published by Langk, the first with a
photograph (A. Z. xxxiv. 25). Both are evidently from Hermonthis.

1 It should here be noted that the "temple of Hornczatef " mentioned on p. 23
of the last Arch. Report is dedicated to the god of that name and not built by the
rebel king, whose name, moreover, is probably to be read otherwise.