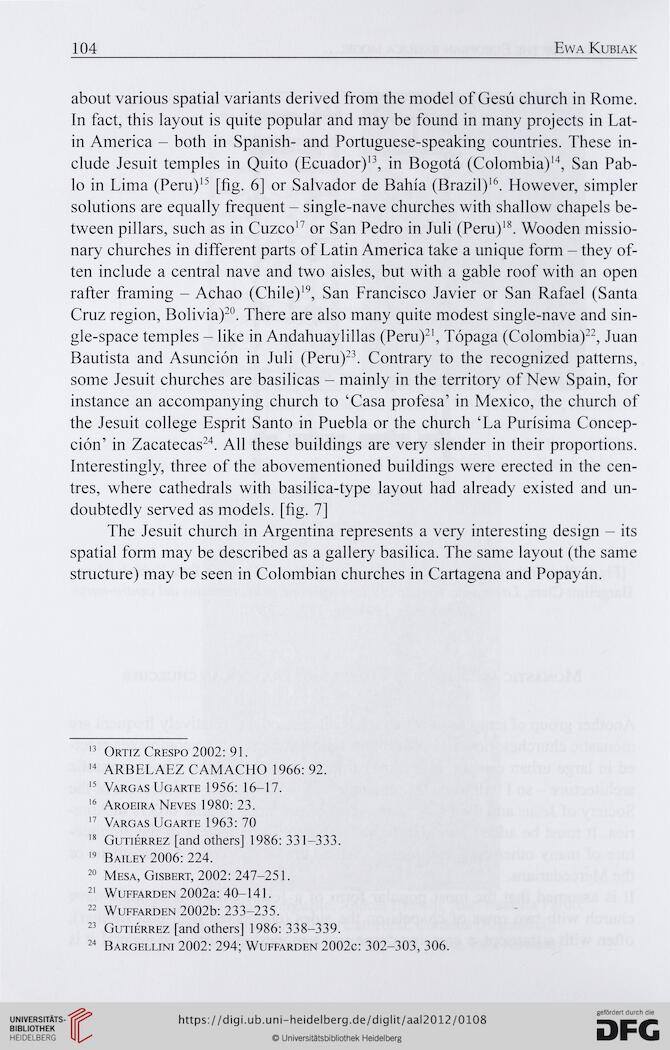 104

Ewa Kubiak

about various spatial variants derived from the model of Gesú church in Rome.
In fact, this layout is quite popular and may be found in many projects in Lat-
in America - both in Spanish- and Portuguese-speaking countries. These in-
clude Jesuit temples in Quito (Ecuador)13, in Bogotá (Colombia)14, San Pab-
lo in Lima (Peru)15 [fig. 6] or Salvador de Bahia (Brazil)16. However, simpler
solutions are equally frequent - single-nave churches with shallow chapels be-
tween pillars, such as in Cuzco17 or San Pedro in Juli (Peru)18. Wooden missio-
nary churches in different parts of Latin America take a unique form - they of-
ten include a central nave and two aisles, but with a gable roof with an open
rafter framing - Achao (Chile)19, San Francisco Javier or San Rafael (Santa
Cruz region, Bolivia)20. There are also many quite modest single-nave and sin-
gle-space temples - like in Andahuaylillas (Peru)21, Tópaga (Colombia)22, Juan
Bautista and Asunción in Juli (Peru)23. Contrary to the recognized patterns,
some Jesuit churches are basilicas - mainly in the territory of New Spain, for
instance an accompanying church to 'Casa profesa' in Mexico, the church of
the Jesuit college Esprit Santo in Puebla or the church 'La Purísima Concep-
ción' in Zacatecas24. All these buildings are very slender in their proportions.
Interestingly, three of the abovementioned buildings were erected in the cen-
tres, where cathedrals with basilica-type layout had already existed and un-
doubtedly served as models, [fig. 7]
The Jesuit church in Argentina represents a very interesting design - its
spatial form may be described as a gallery basilica. The same layout (the same
structure) may be seen in Colombian churches in Cartagena and Popayán.

13 Ortiz Crespo 2002: 91.
14 ARBELAEZ CAMACHO 1966: 92.
15 Vargas Ugarte 1956: 16-17.
16 Aroeira Neves 1980: 23.
17 Vargas Ugarte 1963: 70
18 Gutiérrez [and others] 1986: 331-333.
19 Bailey 2006: 224.
20 Mesa, Gisbert, 2002:247-251.
21 Wuffarden 2002a: 40—141.
22 Wuffarden 2002b: 233-235.
23 Gutiérrez [and others] 1986: 338-339.
24 Bargellini 2002: 294; Wuffarden 2002c: 302-303, 306.