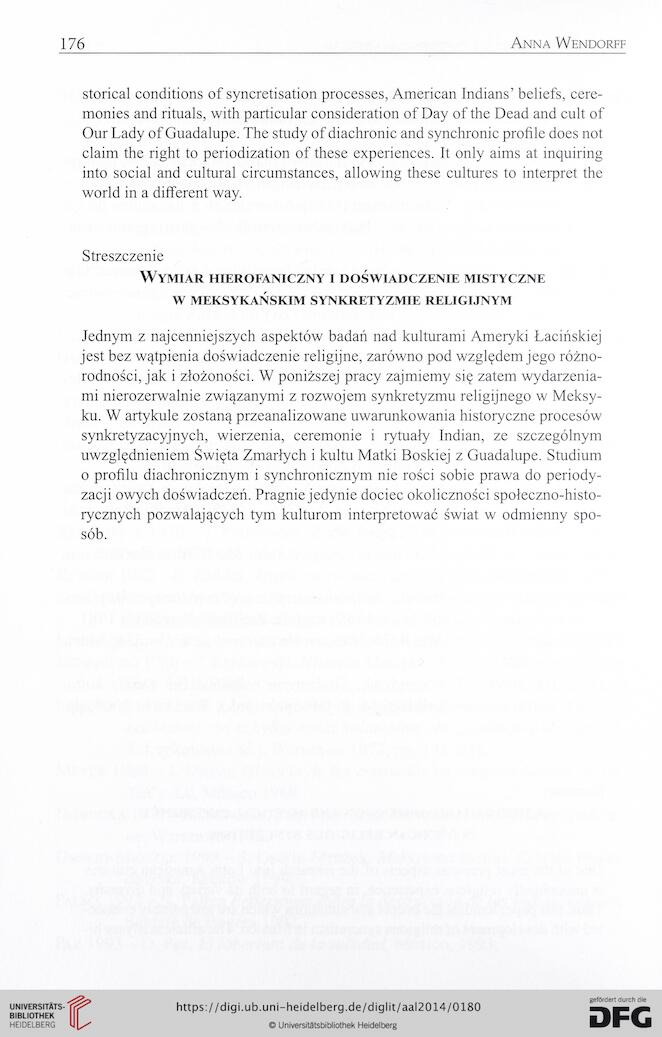 Anna Wendorff

storical conditions of syncretisation processes, American Indians' beliefs, cere-
monies and rituals, with particular consideration of Day of the Dead and cult of
Our Lady of Guadalupe. The study of diachronic and synchronic profile does not
claim the right to periodization of these experiences. It only aims at inquiring
into social and cultural circumstances, allowing these cultures to interpret the
world in a different way.
Streszczenie
Wymiar hierofaniczny i doświadczenie mistyczne
W MEKSYKAŃSKIM SYNKRETYZMIE RELIGIJNYM
Jednym z najcenniejszych aspektów badań nad kulturami Ameryki Łacińskiej
jest bez wątpienia doświadczenie religijne, zarówno pod względem jego różno-
rodności, jak i złożoności. W poniższej pracy zajmiemy się zatem wydarzenia-
mi nierozerwalnie związanymi z rozwojem synkretyzmu religijnego w Meksy-
ku. W artykule zostaną przeanalizowane uwarunkowania historyczne procesów
synkretyzacyjnych, wierzenia, ceremonie i rytuały Indian, ze szczególnym
uwzględnieniem Święta Zmarłych i kultu Matki Boskiej z Guadalupe. Studium
o profilu diachronicznym i synchronicznym nie rości sobie prawa do periody-
zacji owych doświadczeń. Pragnie jedynie dociec okoliczności społeczno-histo-
rycznych pozwalających tym kulturom interpretować świat w odmienny spo-
sób.