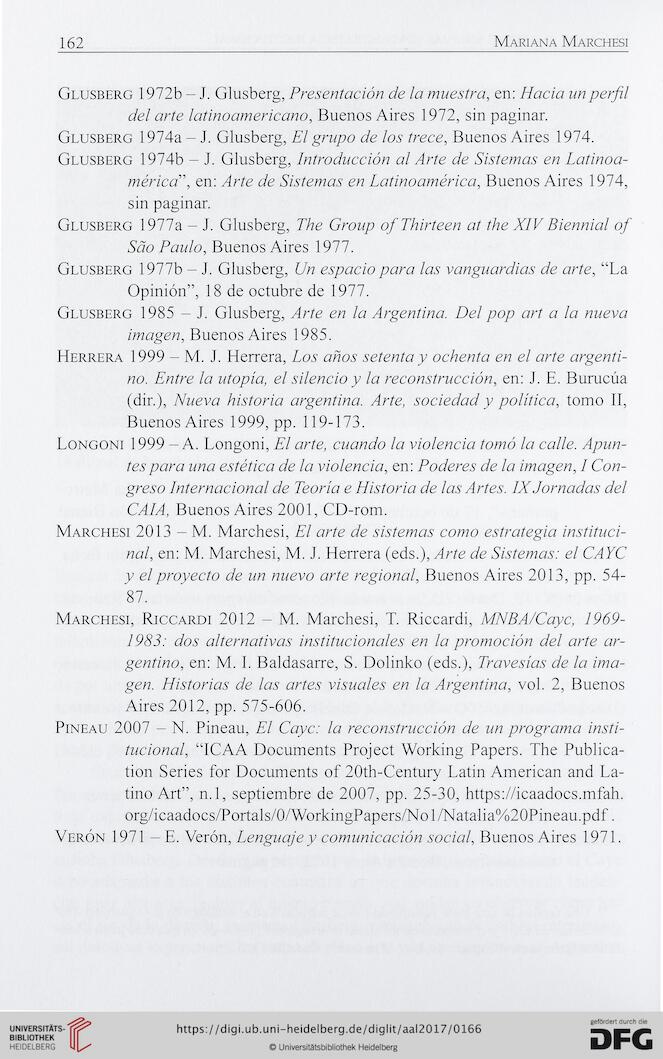 Mariana Marchesi

Glusberg 1972b - J. Glusberg, Presentación de la muestra, en: Hacia un perfil
del arte latinoamericano, Buenos Aires 1972, sin paginar.
Glusberg 1974a - J. Glusberg, El grupo de los trece, Buenos Aires 1974.
Glusberg 1974b - J. Glusberg, Introducción al Arte de Sistemas en Latinoa-
mérica''', en: Arte de Sistemas en Latinoamérica, Buenos Aires 1974,
sin paginar.
Glusberg 1977a - J. Glusberg, The Group of Thirteen at the XIV Biennial of
Sdo Paulo, Buenos Aires 1977.
Glusberg 1977b - J. Glusberg, Un espacio para las vanguardias de arte, "La
Opinión", 18 de octubre de 1977.
Glusberg 1985 - J. Glusberg, Arte en la Argentina. Del pop art a la nueva
imagen, Buenos Aires 1985.
Herrera 1999 - M. J. Herrera, Los años setenta y ochenta en el arte argenti-
no. Entre la utopía, el silencio y la reconstrucción, en: J. E. Burucúa
(din), Nueva historia argentina. Arte, sociedad y política, tomo II,
Buenos Aires 1999, pp. 119-173.
Longoni 1999 - A. Longoni, El arte, cuando la violencia tomó la calle. Apun-
tes para una estética de la violencia, en: Poderes de la imagen, I Con-
greso Internacional de Teoría e Historia de las Artes. IX Jornadas del
CAIA, Buenos Aires 2001, CD-rom.
Marchesi 2013 - M. Marchesi, El arte de sistemas como estrategia instituci-
nal, en: M. Marchesi, M. J. Herrera (eds.), Arte de Sistemas: el CAYC
y el proyecto de un nuevo arte regional, Buenos Aires 2013, pp. 54-
87.
Marchesi, Riccardi 2012 - M. Marchesi, T. Riccardi, MNBA/Cayc, 1969-
1983: dos alternativas institucionales en la promoción del arte ar-
gentino, en: M. 1. Baldasarre, S. Dolinko (eds.), Travesías de la ima-
gen. Historias de las artes visuales en la Argentina, vol. 2, Buenos
Aires 2012, pp. 575-606.
Pineau 2007 - N. Pineau, El Cayc: la reconstrucción de un programa insti-
tucional, "ICAA Documents Project Working Papers. The Publica-
tion Series for Documents of 20th-Century Latin American and La-
tino Art", n.l, septiembre de 2007, pp. 25-30, https://icaadocs.mfah.
org/icaadocs/Portals/O/WorkingPapers/No 1 /Natalia%20Pineau.pdf.
Verón 1971 - E. Verón, Lenguaje y comunicación social, Buenos Aires 1971.