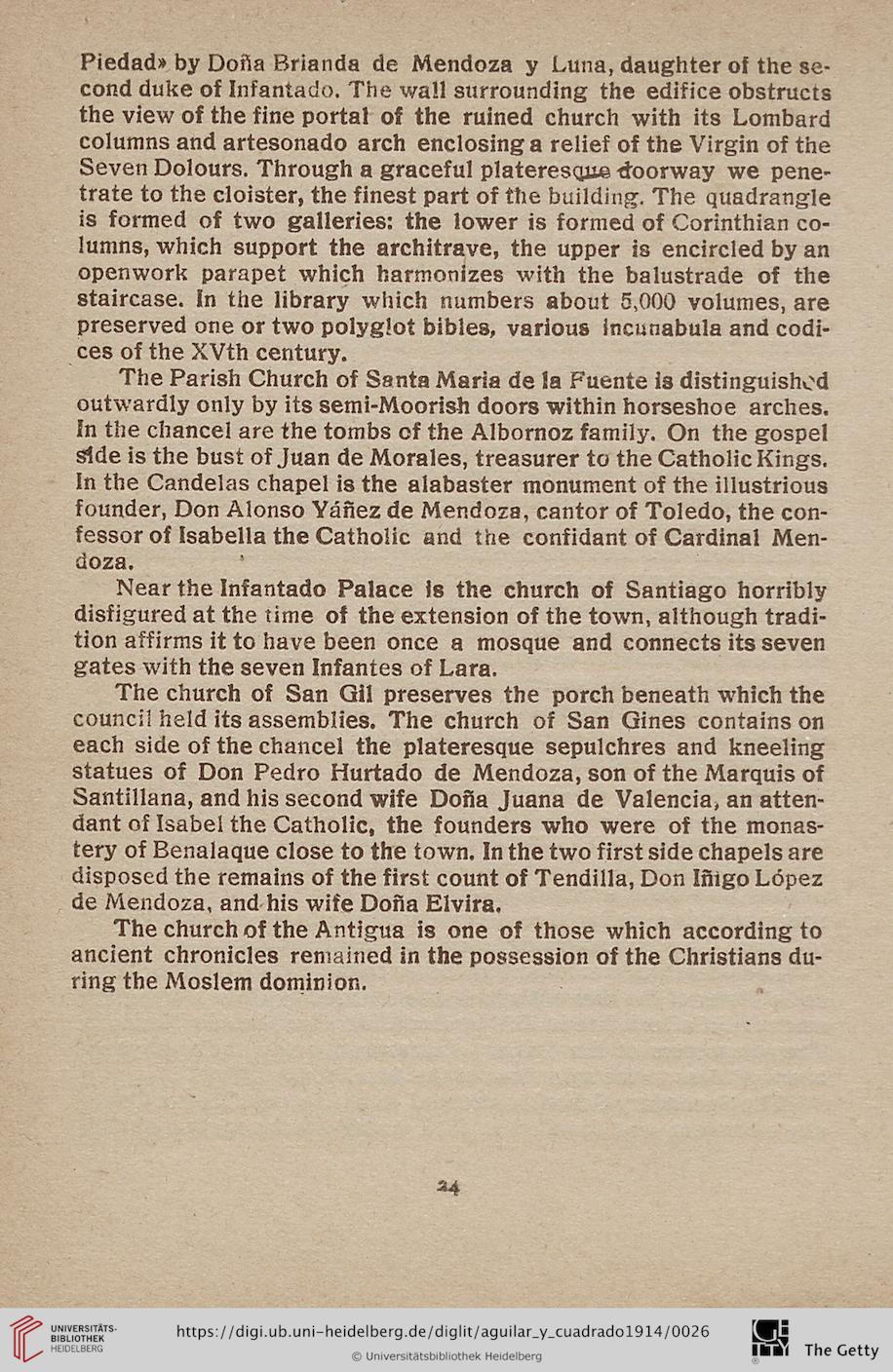 cond duke of Infantado. The wall surrounding the edifice obstructs
the view of the fine portal of the ruined church with its Lombard
columns and artesonado arch enclosings relief of the Virgin of the
Seven Dolours. Through a graceful plateresque doorway we pene-
trate to the cloister, the finest part of the building. The quadrangle
is formed of two galleries: the lower is formed of Corinthian co-
lumns, which support the architrave, the upper is encircled by an
openwork parapet which harmonizes with the balustrade of the
staircase. In the library which numbers about 5,000 volumes, are
preserved one or two polyglot bibles, various Incunabula and codi-
ces of the XVth century.
The Parish Church of Santa Maria de la Fuente is distinguished
outwardly only by its semi-Moorish doors within horseshoe arches.
In the chancel are the tombs cf the Albornoz family. On the gospel
side is the bust of Juan de Morales, treasurer to the Catholic Kings,
in the Candelas chapel is the alabaster monument of the illustrious
founder, Don Alonso Yáñez de Mendoza, cantor of Toledo, the con-
fessor of Isabella the Catholic and the confidant of Cardinal Men-
doza.
Near the Infantado Palace is the church of Santiago horribly
disfigured at the time of the extension of the town, although tradi-
tion affirms it to have been once a mosque and connects its seven
gates with the seven Infantes of Lara.
The church of San Qil preserves the porch beneath which the
council held its assemblies. The church of San Gines contains on
each side of the chancel the plateresque sepulchres and kneeling
statues of Don Pedro Hurtado de Mendoza, son of the Marquis of
Santillana, and his second wife Doña Juana de Valencia, an atten-
dant of Isabel the Catholic, the founders who were of the monas-
tery of Benalaque close to the town. In the two first side chapels are
disposed the remains of the first count of Tendilla, Don Iñigo López
de Mendoza, and his wife Doña Elvira.
The church of the Antigua is one of those which according to
ancient chronicles remained in the possession of the Christians du-
ring the Moslem dominion.