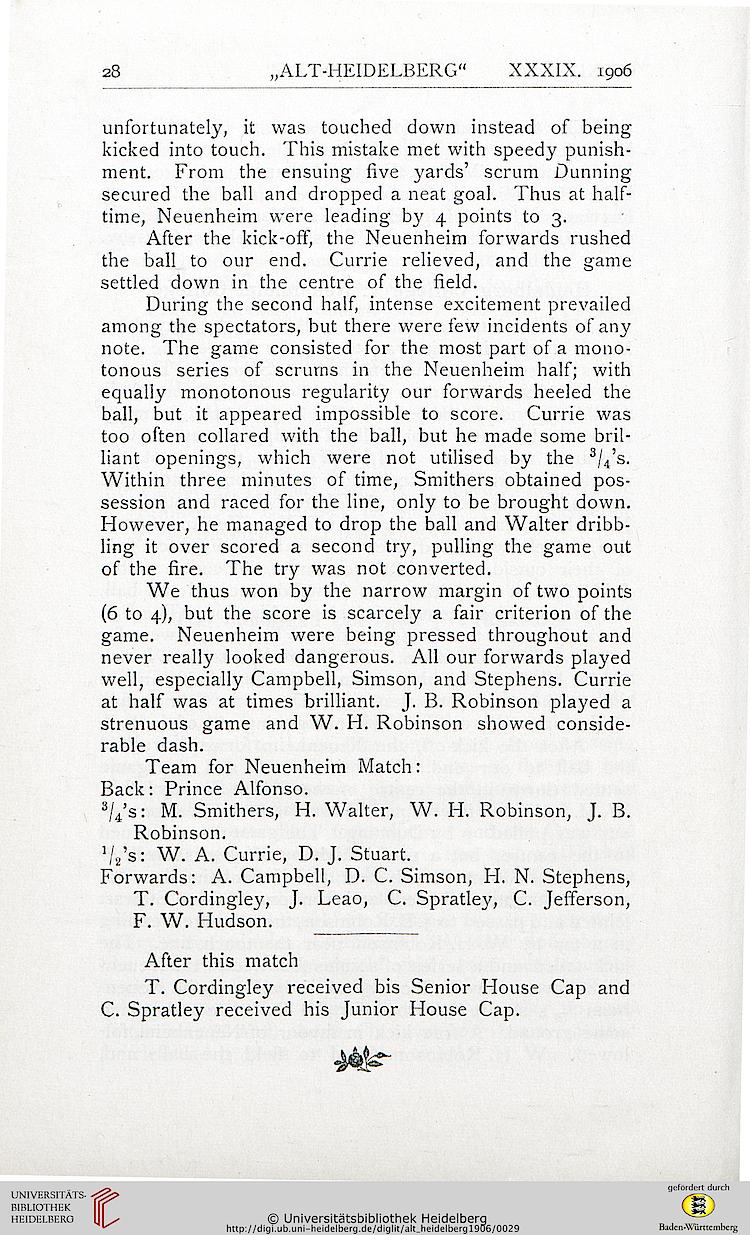 "ALT-HEIDELBERG" XXXIX. 1906

unfortunately, it was touched down instead of being
kicked into touch. This mistake met with speedy punish-
ment. From the ensuing five yards' scrum Dunning
secured the ball and dropped a neat goal. Thus at half-
time, Neuenheim were leading b}' 4 points to 3.

After the kick-off, the Neuenheim forwards rushed
the ball to our end. Currie relieved, and the game
settled down in the centre of the field.

During the second half, intense excitement prevailed
among the spectators, but there were few incidents of any
note. The game consisted for the most part of a mono-
tonous series of scrums in the Neuenheim half; with
equally monotonous regularity our forwards heeled the
ball, but it appeared impossible to score. Currie was
too often collared with the ball, but he made some bril-
liant openings, which were not utilised by the 3/4's.
Within three minutes of time, Smithers obtained pos-
session and raced for the line, only to be brought down.
However, he managed to drop the ball and Walter dribb-
ling it over scored a second try, pulling the game out
of the fire. The try was not converted.

We thus won by the narrow margin of two points
(6 to 4), but the score is scarcely a fair criterion of the
game. Neuenheim were being pressed throughout and
never really looked dangerous. All our forwards played
well, especially Campbell, Simson, and Stephens. Currie
at half was at times brilliant. J. B. Robinson played a
strenuous game and W. H. Robinson showed conside-
rable dash.

Team for Neuenheim Match:
Back: Prince Alfonso.

3/4's: M. Smithers, H. Walter, W. H. Robinson, J. B.

Robinson.
7,'s: W. A. Currie, D. J. Stuart.

Forwards: A. Campbell, D. C. Simson, H. N. Stephens,
T. Cordingley, J. Leao, C. Spratley, C. Jefferson,
F. W. Hudson.

After this match

T. Cordingley received bis Senior House Cap and
C. Spratley received his Junior House Cap.