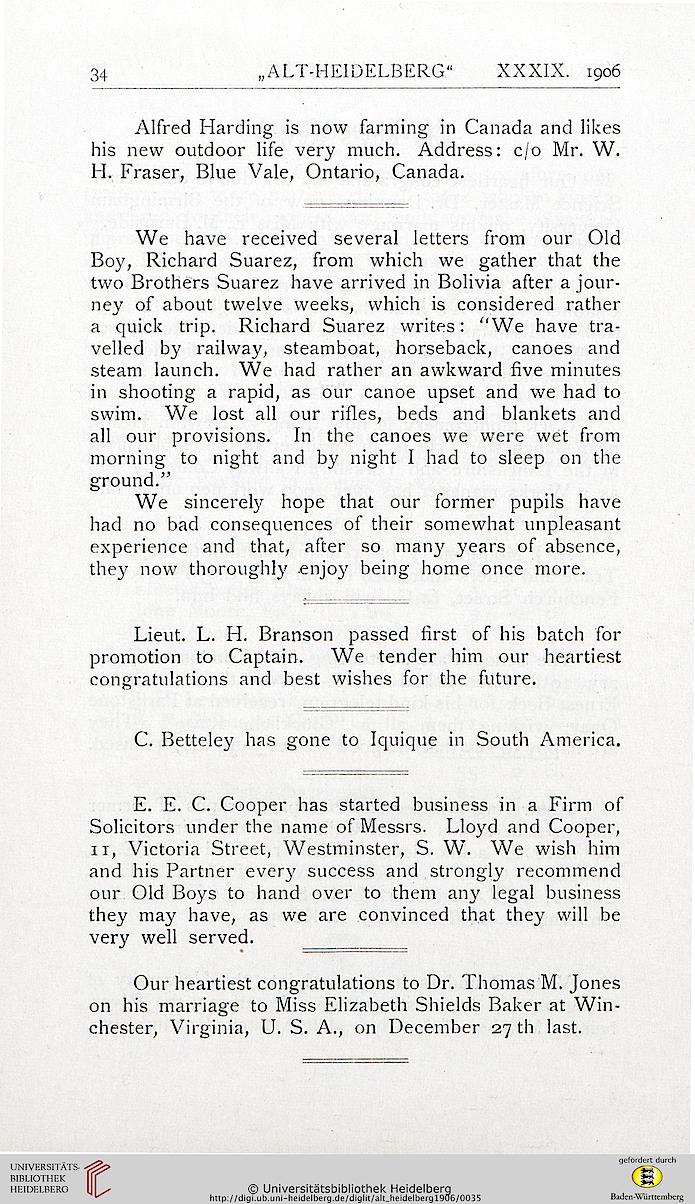 "ALT-HEIDELBERG." XXXIX. 1906

Alfred Harding is now farming in Canada and likes
his new outdoor life very much. Address: c/o Mr. W.
H. Fraser, Blue Vale, Ontario, Canada.

We have received several letters from our Old
Boy, Richard Suarez, from which we gather that the
two Brothers Suarez have arrived in Bolivia after a jour-
ney of about twelve weeks, which is considered rather
a quick trip. Richard Suarez writes: "We have tra-
velled by railway, steamboat, horseback, canoes and
steam launch. We had rather an awkward five minutes
in shooting a rapid, as our canoe upset and we had to
swim. We lost all our rifles, beds and blankets and
all our provisions. In the canoes we were wet from
morning to night and by night I had to sleep on the
ground."

We sincerely hope that our former pupils have
had no bad consequences of their somewhat unpleasant
experience and that, after so man}' years of absence,
they now thoroughly enjoy being home once more.

Lieut. L. H. Branson passed first of his batch for
promotion to Captain. We tender him our heartiest
congratulations and best wishes for the future.

C. Betteley has gone to Iquique in South America.

E. E. C. Cooper has started business in a Firm of
Solicitors under the name of Messrs. Lloyd and Cooper,
ii, Victoria Street, Westminster, S. W. We wish him
and his Partner every success and strongly recommend
our Old Boys to hand over to them any legal business
they may have, as we are convinced that they will be
very well served.__

Our heartiest congratulations to Dr. Thomas M. Jones
on his marriage to Miss Elizabeth Shields Baker at Win-
chester, Virginia, U. S. A., on December 27 th last.