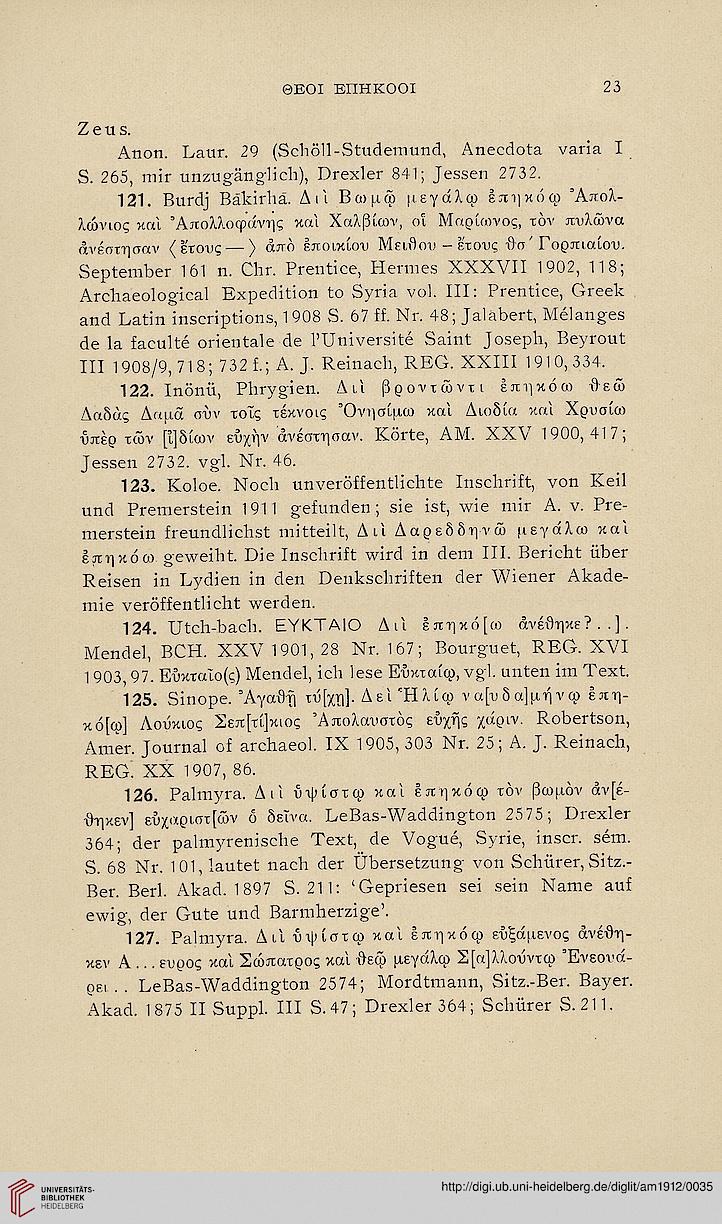 23

Zeus.
Anon. Laur. 29 (Schöll-Studemund, Anecdota varia I
S. 265, mir unzugänglich), Drexler 841; Jessen 2732.
121. Burdj Bäkirhä. All Βωμω μεγάλω έπηκόφ "Απολ-
λώνιος και "Απολλοψάνης και Χαλβίων, οί Μαρίωνος, τον πυλώνα
ανέστησαν (έτους — ) από έποικίου ΜειΟου - έτους θσ'Γορπιαίου.
September 161 n. Chr. Prentice, Hermes XXXVII 1902, 1 18;
Archaeological Expedition to Syria vol. III: Prentice, Greek
and Latin inscriptions, 1908 S. 67 ff. Nr. 48; Jalabert, Melanges
de la faculte orientale de l'Universite Saint Joseph, Beyrout
III 1908/9, 718; 732 f.; A. J. Reinacli, REG. XXIII 1910,334.
122. Inönü, Phrygien. All βροντώντι έπηκόω ί)εώ
Δαδας Δαμα συν τοίς τέκνοις Όνησίμω καί Διοδία και Χρυσίω
υπέρ των [ι]δίων ευχήν άνέστησαν. Körte, AM. XXV 1900,417;
Jessen 2732. vgl. Nr. 46.
123. Koloe. Noch unveröffentlichte Inschrift, von Keil
und Premerstein 1911 gefunden; sie ist, wie mir A. v. Pre-
merstein freundlichst mitteilt, Διί Δαρεδδηνώ μεγάλω καί
έπηκόω geweiht. Die Inschrift wird in dem III. Bericht über
Reisen in Lydien in den Denkschriften der Wiener Akade-
mie veröffentlicht werden.
124. Utch-bach. ΕΥΚΤΑΙΟ Διί έπηκό[ω άνέθηκε?..].
Mendel, BCH. XXV 1901, 28 Nr. 167; Bourguet, REG. XVI
1903, 97. Ευκταΐο(ς) Mendel, ich lese Εΰκταίφ, vgl. unten im Text.
125. Sinope. "Αγαθή τΰ[χη]. Δει Ήλίφ να[υδα]μήνω επη-
κό[ω] Λουκιος Σεπ[τί]κιος Άπολαυστός ευχής χάριν. Robertson,
Amer. Journal of archaeol. IX 1905, 303 Nr. 25; A. J. Reinach,
REG. XX 1907, 86.
126. Palmyra. Διί ύψίστφ καί έπηκόφ τον βωμόν αν [έ-
θη κεν] ευχαριστ[ών ό δείνα. LeBas-Waddington 2575; Drexler
364; der palmyrenische Text, de Vogue, Syrie, inscr. sem.
S. 68 Nr. 101, lautet nach der Übersetzung von Schürer, Sitz.-
Ber. Berl. Akad. 1897 S. 211: 'Gepriesen sei sein Name auf
ewig, der Gute und Barmherzige'.
127. Palmyra. Διί ύτρίστω καί έπηκόω εύξάμενος άνέθη-
κεν Α ... εύρος καί Σώπατρος καί θεφ μεγάλφ Σ[α]λλουντω Ένεοτ'ά-
ρει. . LeBas-Waddington 2574; Mordtmann, Sitz.-Ber. Bayer.
xAkad. 1875 II Suppl. III S. 47; Drexler 364; Schürer S. 211.