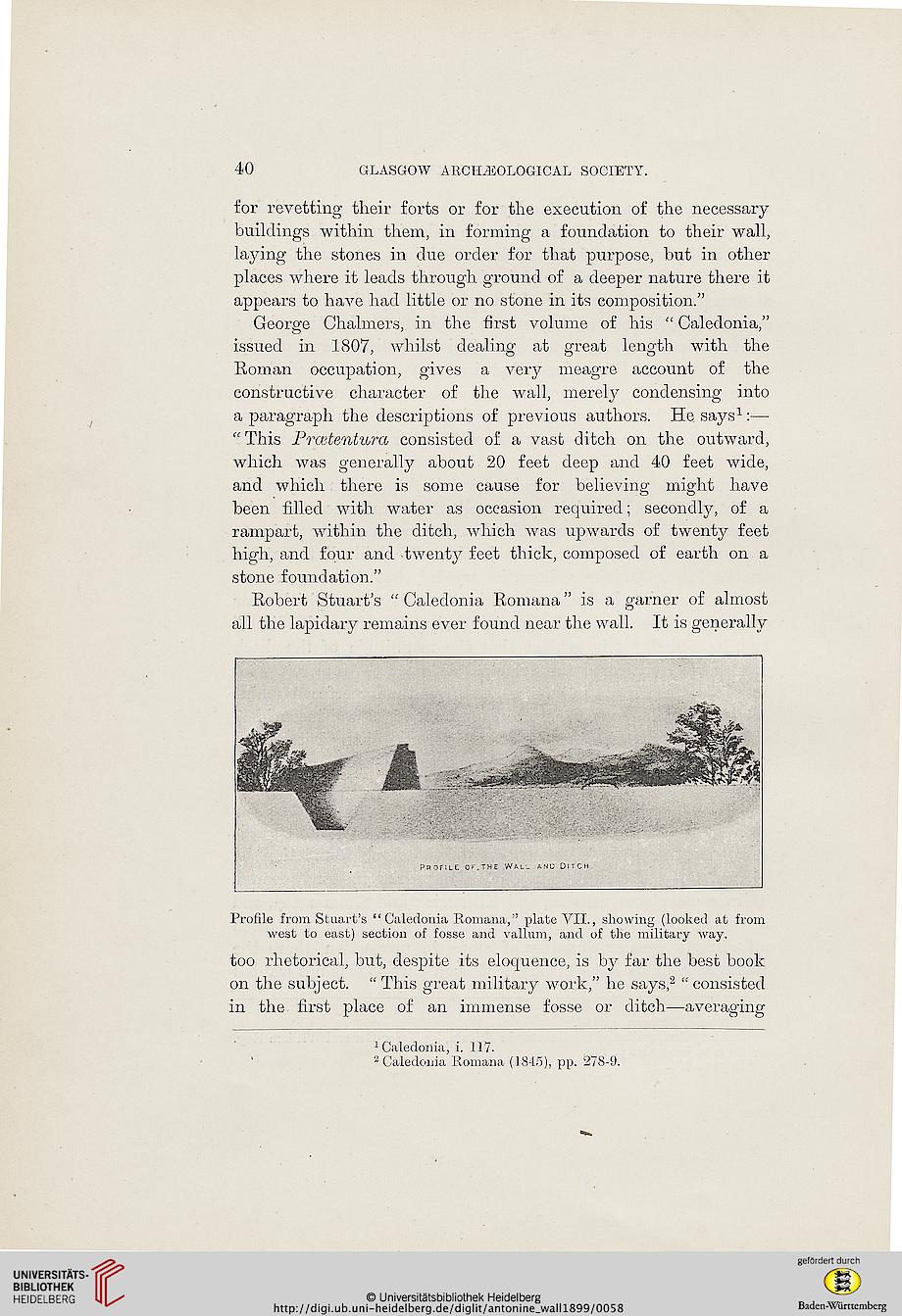 GLASGOW ARCHAEOLOGICAL SOCIETY.

for revetting their forts or for the execution of the necessary
buildings within them, in forming a foundation to their wall,
laying the stones in due order for that purpose, but in other
places where it leads through ground of a deeper nature there it
appears to have had little or no stone in its composition."

George Chalmers, in the first volume of his " Caledonia,"
issued in 1807, whilst dealing at great length with the
Roman occupation, gives a very meagre account of the
constructive character of the wall, merely condensing into
a paragraph the descriptions of previous authors. He says1:—
" This Prwtentura consisted of a vast ditch on the outward,
which was generally about 20 feet deep and 40 feet wide,
and which there is some cause for believing might have
been filled with water as occasion required; secondly, of a
rampart, within the ditch, which was upwards of twenty feet
high, and four and twenty feet thick, composed of earth on a
stone foundation."

Robert Stuart's " Caledonia Romana" is a garner of almost
all the lapidary remains ever found near the wall. It is generally

Profile from Stuart's "Caledonia Romana," plate VII., showing (looked at from
west to east) section of fosse and vallum, and of the military way.

too rhetorical, but, despite its eloquence, is by far the best book
on the subject. "This great military work," he says,2 "consisted
in the first place of an immense fosse or ditch—averaging

1 Caledonia, i. 117.

2 Caledonia Romana (1845), pp. 278-9.