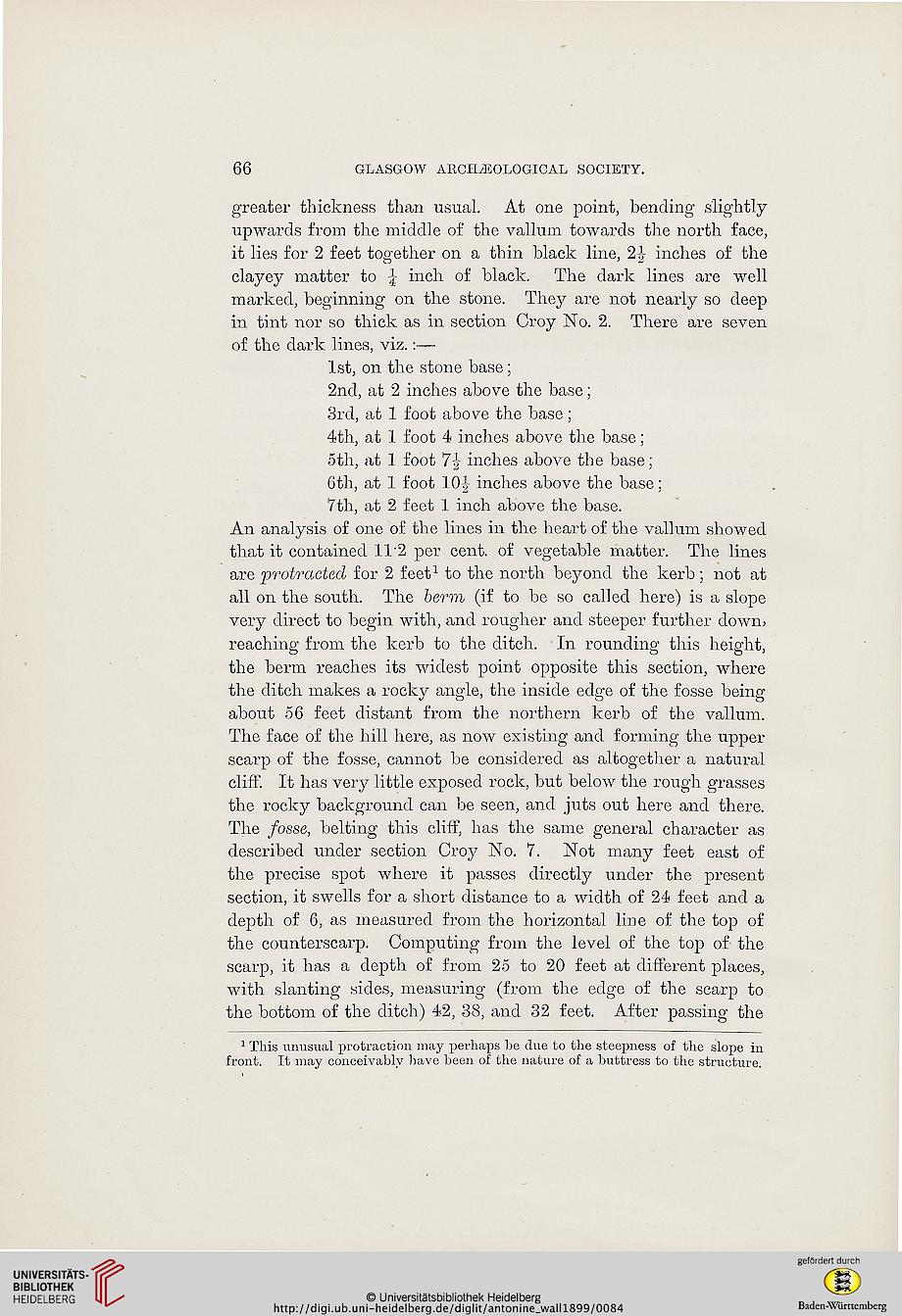 GLASGOW ARCHAEOLOGICAL SOCIETY.

greater thickness than usual. At one point, bending slightly
upwards from the middle of the vallum towards the north face,
it lies for 2 feet together on a thin black line, 1\ inches of the
clayey matter to \ inch of black. The dark lines are well
marked, beginning on the stone. They are not nearly so deep
in tint nor so thick as in section Croy No. 2. There are seven
of the dark lines, viz.:—

1st, on the stone base;

2nd, at 2 inches above the base;

3rd, at 1 foot above the base;

4th, at 1 foot 4 inches above the base;

5th, at 1 foot 7 J inches above the base:

6th, at 1 foot 10|- inches above the base;

7th, at 2 feet 1 inch above the base.
An analysis of one of the lines in the heart o£ the vallum showed
that it contained 11 2 per cent, of vegetable matter. The lines
are protracted for 2 feet1 to the north beyond the kerb; not at
all on the south. The berm (if to be so called here) is a slope
very direct to begin with, and rougher and steeper further down>
reaching from the kerb to the ditch. In rounding this height,
the berm reaches its widest point opposite this section, where
the ditch makes a rocky angle, the inside edge of the fosse being
about 56 feet distant from the northern kerb of the vallum.
The face of the hill here, as now existing and forming the upper
scarp of the fosse, cannot be considered as altogether a natural
cliff. It has very little exposed rock, but below the rough grasses
the rocky background can be seen, and juts out here and there.
The fosse, belting this cliff, has the same general character as
described under section Croy No. 7. Not many feet east of
the precise spot where it passes directly under the present
section, it swells for a short distance to a width of 24 feet and a
depth of 6, as measured from the horizontal line of the top of
the counterscarp. Computing from the level of the top of the
scarp, it has a depth of from 25 to 20 feet at different places,
with slanting sides, measuring (from the edge of the scarp to
the bottom of the ditch) 42, 38, and 32 feet. After passing the

1 This unusual protraction may perhaps be due to the steepness of the slope in
front. It may conceivably have been of the nature of a buttress to the structure.