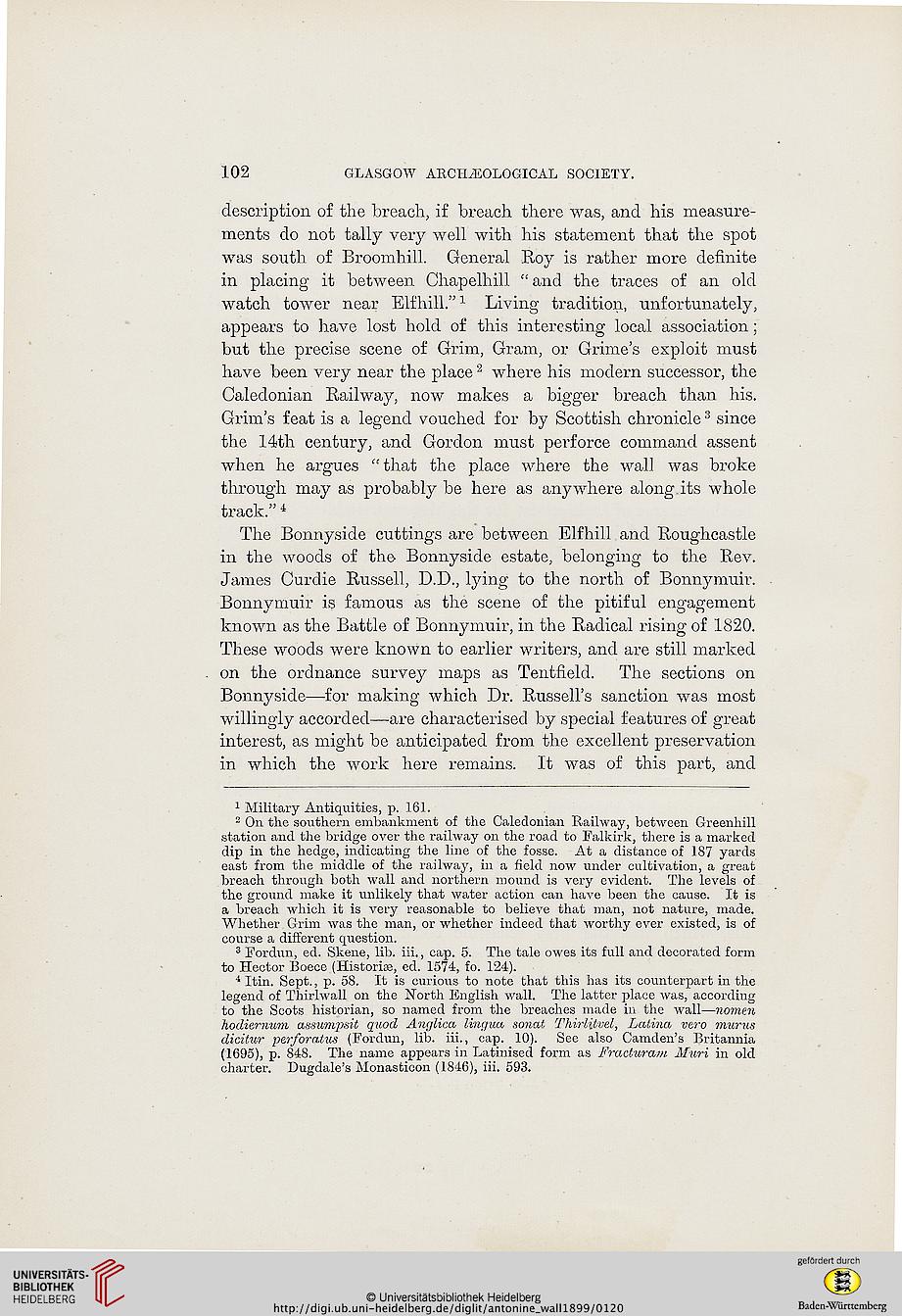 GLASGOW ARCHAEOLOGICAL SOCIETY.

description of the breach, if breach there was, and his measure-
ments do not tally very well with his statement that the spot
was south of Broomhill. General Roy is rather more definite
in placing it between Chapelhill "and the traces of an old
watch tower near Eli'hill."1 Living tradition, unfortunately,
appears to have lost hold of this interesting local association;
but the precise scene of Grim, Gram, or Grime's exploit must
have been very near the place2 where his modern successor, the
Caledonian Railway, now makes a bigger breach than his.
Grim's feat is a legend vouched for by Scottish chronicle3 since
the 14th century, and Gordon must perforce command assent
when he argues "that the place where the wall was broke
through may as probably be here as anywhere along.its whole
track."4

The Bonnyside cuttings are between Elf hill and Roughcastle
in the woods of the Bonnyside estate, belonging to the Rev.
James Curdie Russell, D.D., lying to the north of Bonnymuh".
Bonnymuir is famous as the scene of the pitiful engagement
known as the Battle of Bonnymuir, in the Radical rising of 1820.
These woods were known to earlier writers, and are still marked
on the ordnance survey maps as Tentfield. The sections on
Bonnyside—for making which Dr. Russell's sanction was most
willingly accorded—are characterised by special features of great
interest, as might be anticipated from the excellent preservation
in which the work here remains. It was of this part, and

1 Military Antiquities, p. 161.

2 On the southern embankment of the Caledonian Railway, between Greenhill
station and the bridge over the railway on the road to Falkirk, there is a marked
dip in the hedge, indicating the line of the fosse. At a distance of 187 yards
east from the middle of the railway, in a field now under cultivation, a great
breach through both wall and northern mound is very evident. The levels of
the ground make it unlikely that water action can have been the cause. It is
a breach which it is very reasonable to believe that man, not nature, made.
Whether Grim was the man, or whether indeed that worthy ever existed, is of
course a different question.

3 Fordun, ed. Skene, lib. iii., cap. 5. The tale owes its full and decorated form
to Hector Boeee (Historian, ed. 1574, fo. 124).

4 Itin. Sept., p. 58. It is curious to note that this has its counterpart in the
legend of Thirlwall on the North English wall. The latter place was, according
to the Scots historian, so named from the breaches made in the wall—nomen
hodiernum assumpsit quod Anglica lingua sonat Thirlitvel, Latina vero murus
dicilur perforatus (Fordun, lib. iii., cap. 10). See also Camden's Britannia
(1695), p. 848. The name appears in Latinised form as Fracturam Mnri in old
charter. Dugdale's Monasticon (1846), iii. 593.