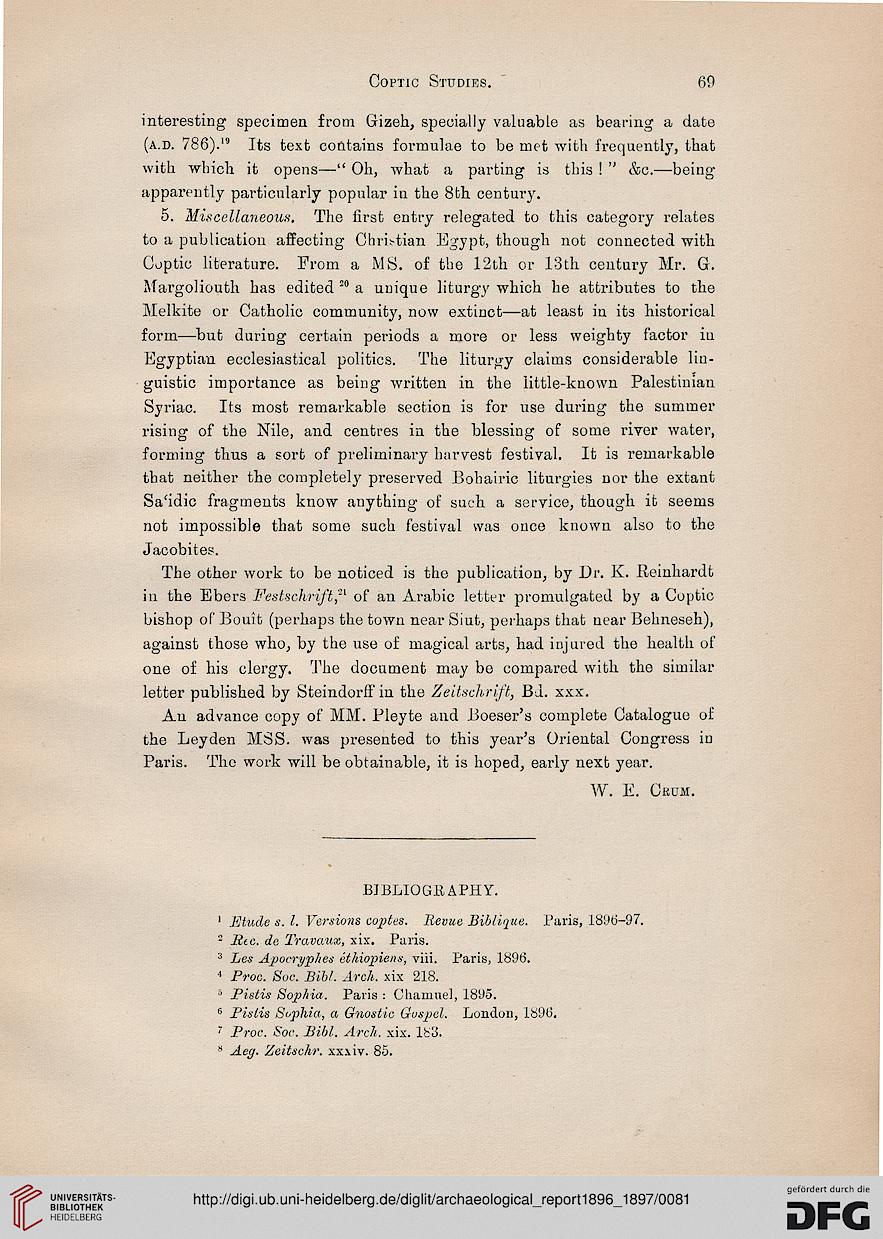 69

interesting specimen from Gizeh, specially valuable as bearing a date
(a.d. 786).19 Its text contains formulae to be met with frequently, that
with which it opens—" Oh, what a parting is this ! " &c.—being
apparently particularly popular in the 8th century.

5. Miscellaneous. The first entry relegated to this category relates
to a publication affecting Christian Egypt, though not connected with
Coptic literature. From a MS. of the 12th or 13th century Mr. G.
Margoliouth has edited 20 a unique liturgy which he attributes to the
Melkite or Catholic community, now extinct—at least in its historical
form—but during certain periods a more or less weighty factor in
Egyptian ecclesiastical politics. The liturgy claims considerable lin-
guistic importance as being written in the little-known Palestinian
Syriac. Its most remarkable section is for use during the summer
rising of the Nile, and centres in the blessing of some river water,
forming thus a sort of preliminary harvest festival. It is remarkable
that neither the completely preserved Bohairic liturgies nor the extant
Sa'idic fragments know anything of such a service, though it seems
not impossible that some such festival was once known also to the
Jacobites.

The other work to be noticed is the publication, by Dr. K. Reinhardt
in the Ebors Festschrift,21 of an Arabic letter promulgated by a Coptic
bishop of Bouit (perhaps the town near Siut, perhaps that near Behneseh),
against those who, by the use of magical arts, had injured the health of
one of his clergy. The document may be compared with the similar
letter published by Steindorff in the Zeitschrift, B J. xxx.

An advance copy of MM. Pleyte and Boeser's complete Catalogue of
the Leyden MSS. was presented to this year's Oriental Congress in
Paris. The work will be obtainable, it is hoped, early next year.

W. E. Ckum.

BJBLIOGll APHY.

' Etude s. I. Versio?is coptes. Revue Biblique. Paris, 1890-97.

2 Sic. de Travaux, xix. Paris.

3 Les Apocryphes ethiopiens, viii. Paris, 1896.

4 Proa. Soc. Bib!. Arch, xix 218.

3 Pislis Sophia. Paris : Chamuel, 1895.

6 Pislis Sophia, a Gnostic Gospel. London, 1890.

7 Proc. Soc. Bibl. Arch. xix. 183.

8 Aeg. Zeitschr. xxxiv. 85.