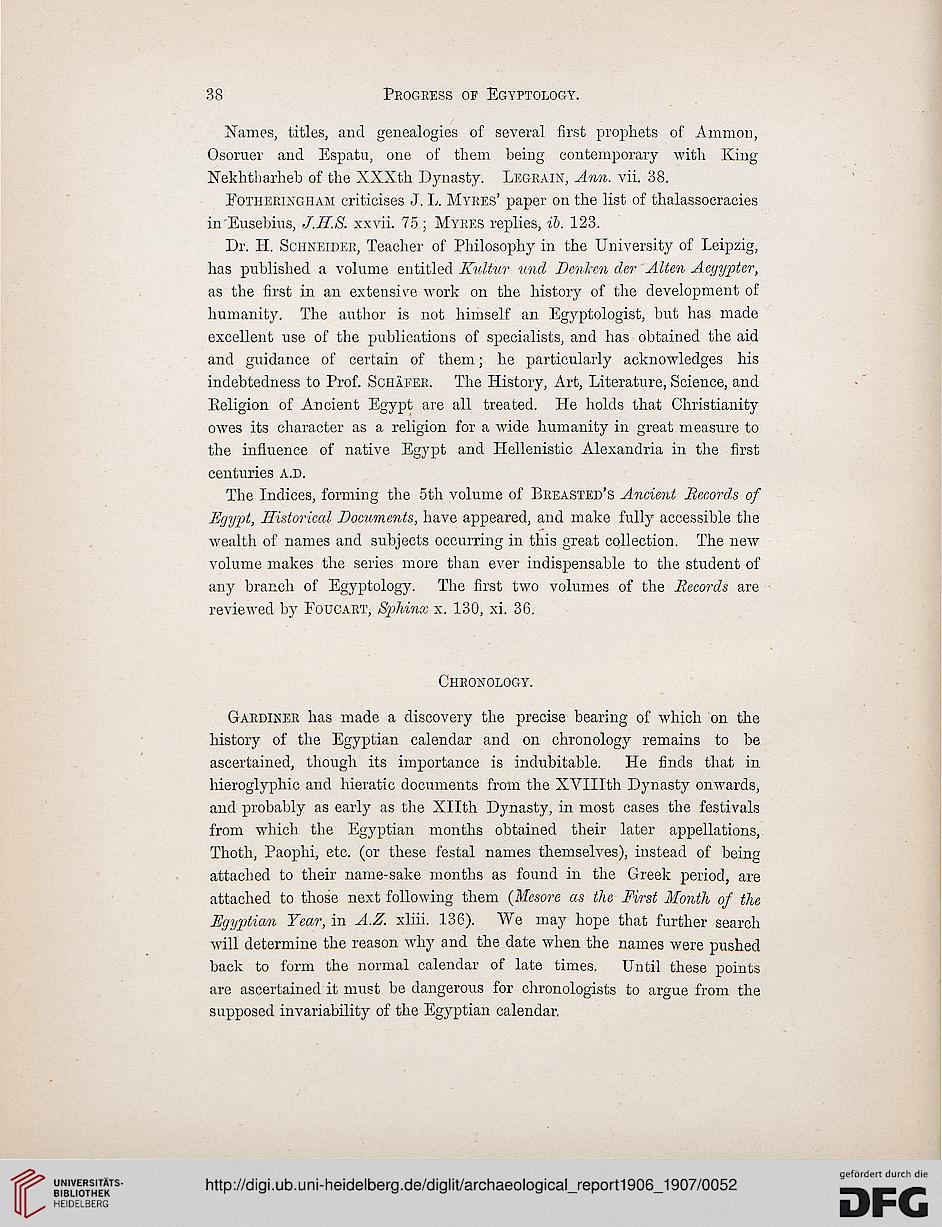 Progress oe Egyptology.

Names, titles, and genealogies of several first prophets of Ammon,
Osoruer and Espatu, one of them being contemporary with King
Nekhtharheb of the XXXth Dynasty. Legrain, Ann. vii. 38.

FOTHERlNGHAM criticises J. L. Myres' paper on the list of thalassocracies
in'Eusebius, J.H.S. xxvii. 75 ; Myres replies, ib. 123.

Dr. H. Schneider, Teacher of Philosophy in the University of Leipzig,
has published a volume entitled Kultv/r mid Denken der Alien Aegypter,
as the first in an extensive work on the history of the development of
humanity. The author is not himself an Egyptologist, but has made
excellent use of the publications of specialists, and has obtained the aid
and guidance of certain of them; he particularly acknowledges his
indebtedness to Prof. Schafer. The History, Art, Literature, Science, and
Eeligion of Ancient Egypt are all treated. He holds that Christianity
owes its character as a religion for a wide humanity in great measure to
the influence of native Egypt and Hellenistic Alexandria in the first
centuries a.d.

The Indices, forming the 5th volume of Breasted's Ancient Records of
Egypt, Historical Documents, have appeared, and make fully accessible the
wealth of names and subjects occurring in this great collection. The new
volume makes the series more than ever indispensable to the student of
any branch of Egyptology. The first two volumes of the Records are
reviewed by Foucart, Sphinx x. 130, xi. 36.

Chronology.

Gardiner has made a discovery the precise bearing of which on the
history of the Egyptian calendar and on chronology remains to be
ascertained, though its importance is indubitable. He finds that in
hieroglyphic and hieratic documents from the XVIIIth Dynasty onwards,
and probably as early as the Xllth Dynasty, in most cases the festivals
from which the Egyptian months obtained their later appellations,
Thoth, Paophi, etc. (or these festal names themselves), instead of being
attached to their name-sake months as found in the Greek period, are
attached to those next following them (Mcsore as the First Month of the
Egyptian Year, in A.Z. xliii. 136). We may hope that further search
will determine the reason why and the date when the names were pushed
back to form the normal calendar of late times. Until these points
are ascertained it must be dangerous for chronologists to argue from the
supposed invariability of the Egyptian calendar.