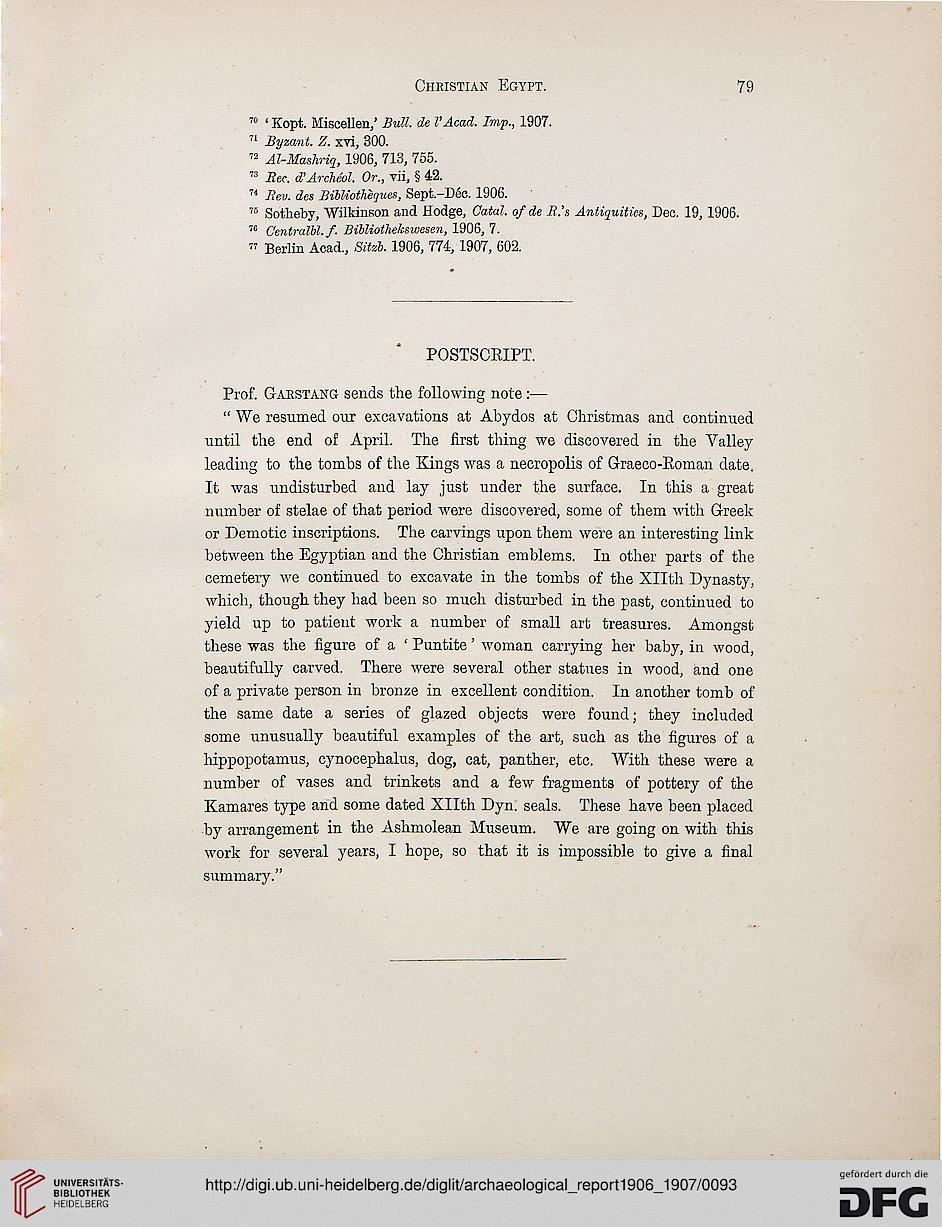 79

70 ' Kopt. Miscellen/ Bull, de I'Acad. Imp., 1907.

71 Byzant. Z. xvi, 300.

72 Al-Mashriq, 1906, 713, 755.

73 Bee. cFArcheol Or., vii, § 42.

74 Rev. des BibUotUques, Sept.-Dec. 1906.

76 Sotbeby, Wilkinson and Hodge, Gatal. of de B.'s Antiquities, Dec. 19, 1906.

76 Centralbl.f. Bibliothekswesen, 1906, 7.

77 Berlin Acad., Sitzb. 1906, 774, 1907, 602.

POSTSCEIPT.
Prof. Gaestang sends the following note :—

" We resumed our excavations at Abydos at Christmas and continued
until the end of April. The first thing we discovered in the Valley
leading to the tombs of the Kings was a necropolis of Graeco-Eoman date.
It was undisturbed and lay just under the surface. In this a great
number of stelae of that period were discovered, some of them with Greek
or Demotic inscriptions. The carvings upon them were an interesting link
between the Egyptian and the Christian emblems. In other parts of the
cemetery we continued to excavate in the tombs of the Xllth Dynasty,
which, though they had been so much disturbed in the past, continued to
yield up to patient work a number of small art treasures. Amongst
these was the figure of a ' Puntite' woman carrying her baby, in wood,
beautifully carved. There were several other statues in wood, and one
of a private person in bronze in excellent condition. In another tomb of
the same date a series of glazed objects were found; they included
some unusually beautiful examples of the art, such as the figures of a
hippopotamus, cynocephalus, dog, cat, panther, etc. With these were a
number of vases and trinkets and a few fragments of pottery of the
Kamares type and some dated Xllth Dyn. seals. These have been placed
by arrangement in the Ashmolean Museum. We are going on with this
work for several years, I hope, so that it is impossible to give a final
summary."