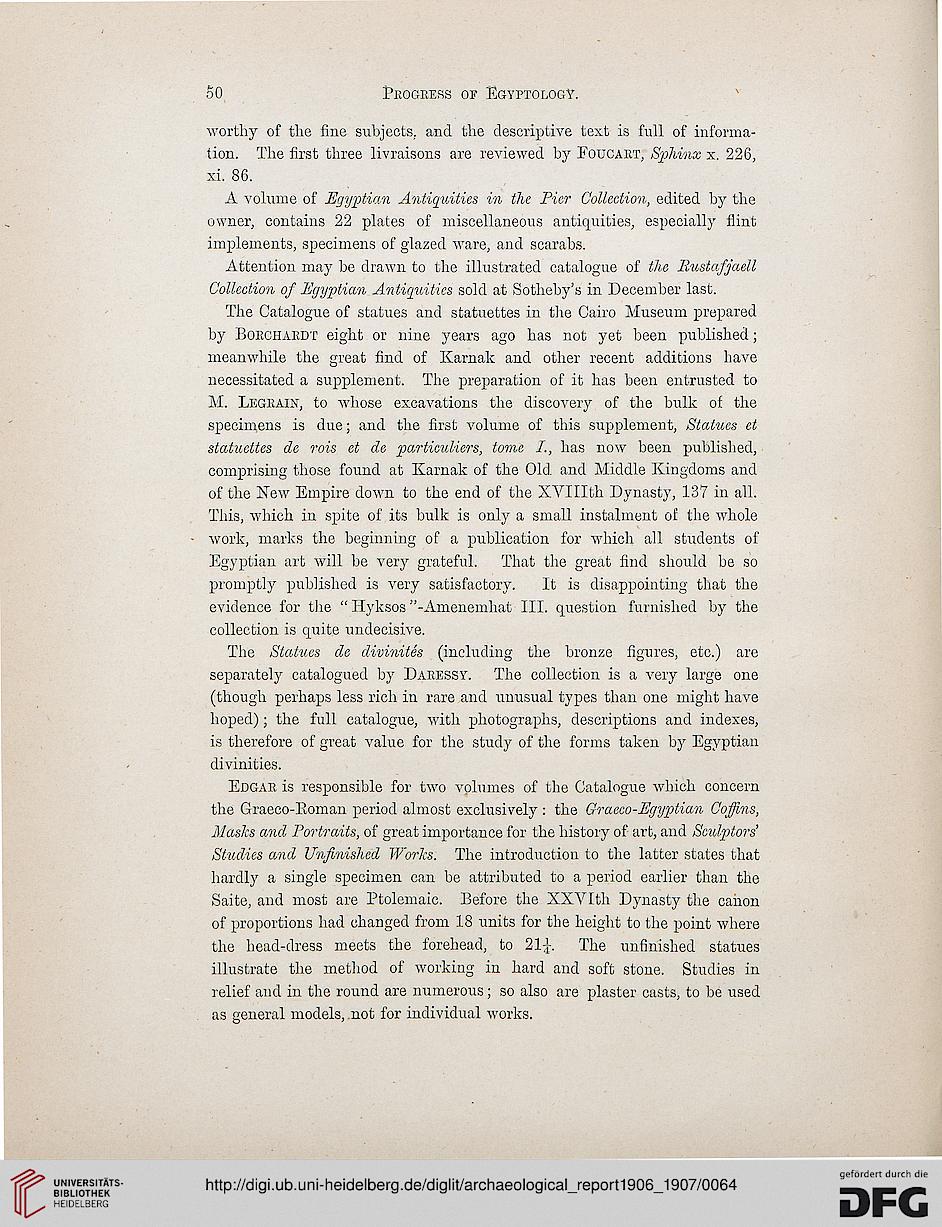 worthy of the fine subjects, and the descriptive text is full of informa-
tion. The first three livraisons are reviewed by Foucabt, Sphinx x. 226,
xi. 86.

A volume of Egyptian Antiquities in the Pier Collection, edited by the
owner, contains 22 plates of miscellaneous antiquities, especially flint
implements, specimens of glazed ware, and scarabs.

Attention may be drawn to the illustrated catalogue of the Bustafjaell
Collection of Egyptian Antiquities sold at Sotheby's in December last.

The Catalogue of statues and statuettes in the Cairo Museum prepared
by Boechaedt eight or nine years ago has not yet been published;
meanwhile the great find of Karnak and other recent additions have
necessitated a supplement. The preparation of it has been entrusted to
M. Legbain, to whose excavations the discovery of the bulk of the
specimens is due; and the first volume of this supplement, Statues et
statuettes de wis et ole particuliers, tome I., has now been published,
comprising those found at Karnak of the Old. and Middle Kingdoms and
of the New Empire down to the end of the XVIIIth Dynasty, 137 in all.
This, which in spite of its bulk is only a small instalment of the whole
work, marks the beginning of a publication for which all students of
Egyptian art will be very grateful. That the great find should be so
promptly published is very satisfactory. It is disappointing that the
evidence for the " Hyksos "-Amenemhat III. question furnished by the
collection is quite undecisive.

The Statues cle divinites (including the bronze figures, etc.) are
separately catalogued by Daeessy. The collection is a very large one
(though perhaps less rich in rare and unusual types than one might have
hoped); the full catalogue, with photographs, descriptions and indexes,
is therefore of great value for the study of the forms taken by Egyptian
divinities.

Edgae is responsible for two volumes of the Catalogue which concern
the Graeco-Eoman period almost exclusively : the Graeco-Egyptian Coffins,
Masks and Portraits, of great importance for the history of art, and Sculptors'
Studies and Unfinished Works. The introduction to the latter states that
hardly a single specimen can be attributed to a period earlier than the
Saite, and most are Ptolemaic. Before the XXVIth Dynasty the canon
of proportions had changed from 18 units for the height to the point where
the head-dress meets the forehead, to 21£. The unfinished statues
illustrate the method of working in hard and soft stone. Studies in
relief and in the round are numerous; so also are plaster casts, to be used
as general models, not for individual works.